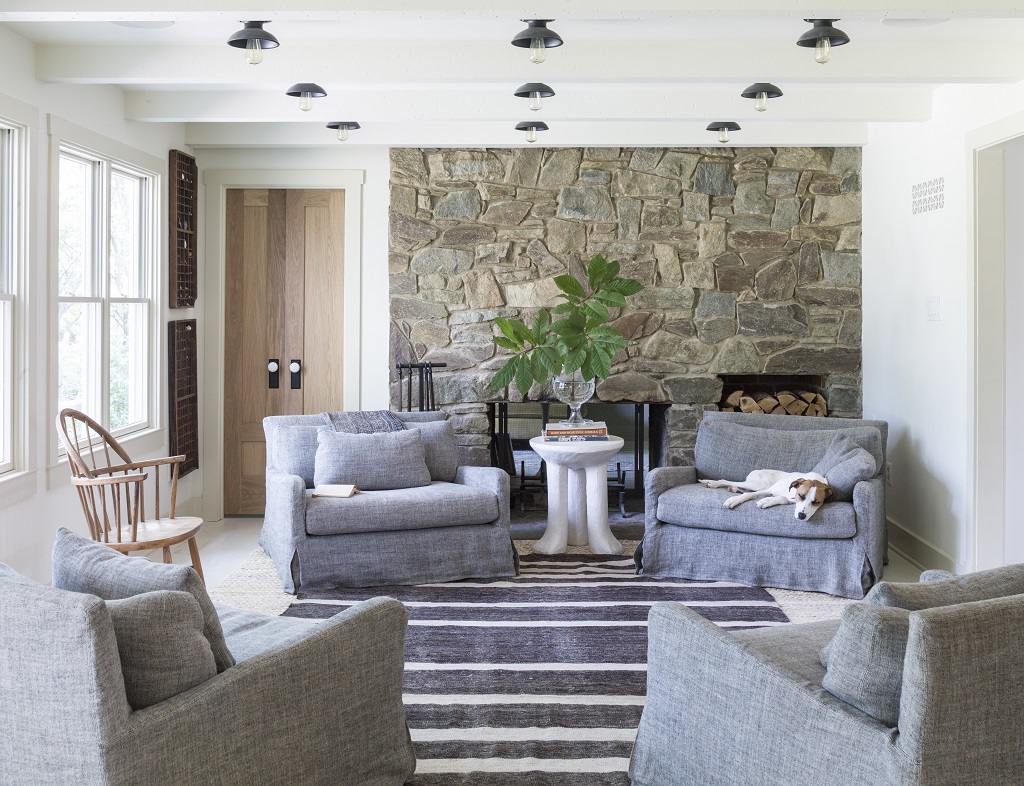 How To | Create Living Spaces to Suit Your Style
You can tell much about a person's style just by looking at their living room. Is it a cozy space filled with comfy furniture, soft pillows, and warm throws? Or is it a space with plenty of windows, soaring ceilings, and minimal furnishings? Whether your taste runs modern and minimal or more rustic industrial, how you light your space is key to creating the atmosphere you love.
Today, we're sharing some of our favorite customer living spaces as inspiration. If you have an enviable living room, please share in the comments below or on our Instagram feed!
Janna's family is a casual, kick-off-your-shoes kind of crowd so they wanted a comfortable, humble-feeling living room. Janna searched for barn wall sconces to flank her rugged stone fireplace, accent the windows, and bring light to that wall during the evening hours.
She chose Gladstone Wall Sconces because, as she says, "They're the cutest!" She customized these American-made, eight-inch sconces with a Black finish and paddle switches.
Jenny's living space hosts an active family with comfy seating and a pool table nearby. She chose a nautical style chandelier to bring a hint of industrial style to the room. The Mercury Eight-Light Chandelier combines eight guard-and-glass fixtures into an industrial stem mount pendant that becomes an eye-catching centerpiece in the space.
If your living area features architectural details or artwork that you want to highlight, consider gooseneck lighting to accent these pieces. Above, matching Original™ Gooseneck Lights not only illuminate the homeowner's display of collectibles, but they also bring their own artistic element to the wall.
Brooke added a splash of warmth to her mostly gray and neutral living space with a brass chandelier. The Downtown Minimalist 3-Light Chandelier offers a timeless quality that suits her 1950s-era home and was easy to customize with finish, stem, and bulb options.
While many people opt for can lighting in their living spaces, Lauren chose the more eclectic Kao Flush Mount Pendant for her living room and adjoining kitchen. Crafted from solid porcelain ceramic, these flush mount lights offer a blend of traditional and modern style and can be customized in one of more than two dozen finish colors.
Kirsten also chose a vintage/modern blend of furniture and accessories for the styling of her living room. Near the fireplace, Kirsten added a Downtown Minimalist Adjustable Wall Sconce to add a touch of light and color to the nook. The adjustable arm and Edison style light bulb add to the aesthetics of this utilitarian wall sconce.
With a houseful of active kids, Emily needed lighting that could handle the occasional random object flying through the air. This space didn't have an overabundance of natural light so she searched for a rugged pendant that held more than one bulb. Emily found the perfect solution in the Industrial Loft Double Pendant. She chose the Black finish to pop from the white ceiling and pull in the subtle touches of black around the room. Inspired by ship lights, this nautical-style pendant is American made of commercial-grade materials and features standard cast guards and clear glass for maximum illumination.