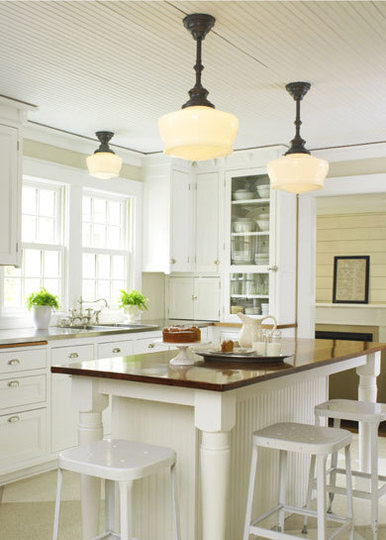 Historical School House Pendants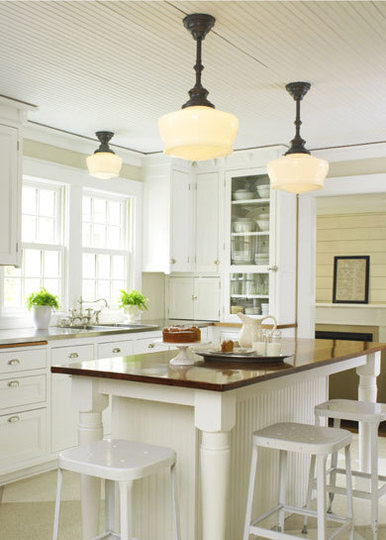 Photo courtesy of Apartment Therapy
For about 50 years, School House style lights could be found not only in residential areas, but schools, galleries, and libraries as well. These shades were popular choices for homeowners and architects alike, therefore, they were produced in hundreds of styles and sizes to accommodate all spaces. It wasn't until the 1960's that styles changed, and the majority of School House shades stopped being produced.

Today, as homeowners are snatching up historic properties, restoring every last detail is of high importance. Most of the time, original cabinets and flooring can be easily restored with a little elbow grease, but sometimes hardware and accessories are missing and are then hard to come by. Luckily today, many companies are making reproduction pieces. New cabinet handles, door knobs, or light fixtures can easily be found online with the click of your mouse.
At Barn Light Electric, we offer several of these pieces to help your restoration project move along. For hardware, we offer a full line of Rocky Mountain Hardware – here you will find hundreds of styles for any type of door or cabinet. You can even find sinks, faucets, and bathroom accessories. Lighting, as you may know, is what we specialize in. At Barn Light Electric, you will find thousand of lighting styles to help in your restoration – whether you have a home from the 40's, 60's, or are building new in 2010, we can assist you in finding the perfect fit. If you're lucky enough to have a kitchen similar to the photo above, we offer a Brevard School House Pendant that is a similar match. For this fixture, multiple Opal shade sizes are available (8″-18″). For a true reproduction feel, we recommend a Bronze finish with a matching Stem Mount. Prices for the Brevard School House Pendant start at $183.00 each.