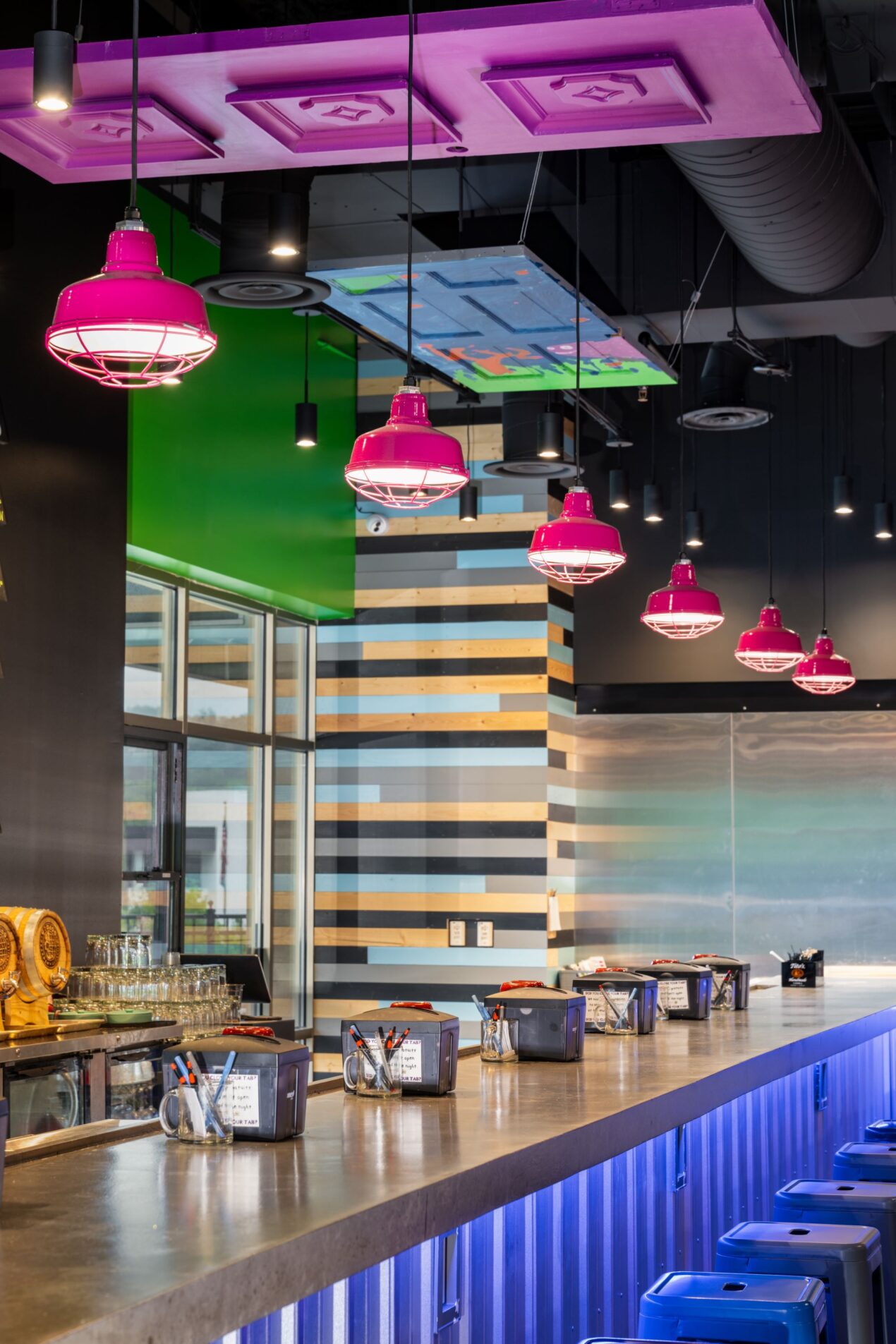 Highlighting Brewery's Fun, Engaging Ambiance with Industrial Lighting
There's nothing better on a hot August afternoon than a cold, finely crafted beer. In Knoxville, Tennessee, the number of craft breweries has grown in the last 10 years from just a handful to more than 40. The Knoxville Chamber of Commerce notes that local breweries generate more than $115 million every year and have created more than 300 jobs. 
One of our favorite spots is Voodoo Brewing which opened last December. The owners worked with Studio 4 Design to create a vibrant and fun atmosphere that stays true to the Voodoo brand but also has a distinctive Knoxville flavor.
"Voodoo Brewing has a corporate brand manual that we used as a design guide to customize the look and feel of this space to be unique to Knoxville," says Stacy Cox, AIA, and principal of Studio Four Design. "Each franchise location has its own distinct personality and the manual provides the owner and designer the opportunity to create a space that is distinct from the others but shares the same design aesthetic."
The Voodoo manual led the way in the selection of lighting for the renovated space. The brand aesthetic includes salvaged materials such as doors, corrugated metal, and wooden pallets while the lighting fixture examples are eclectic with exposed lamps, metal shrouds, and accents.
"We wanted to create a lighting package that would reflect the design intent for the space," Stacy explains. "Barn Light's products are an excellent fit and very budget friendly to support the design intent."
Working with FSA Lighting, Barn Light's commercial rep in Knoxville, the team chose the Esso Pendant Light to highlight the bar area. They customized these nine pendants with 10″ shades, an eye-popping Magenta finish, and standard black cords. They also opted for wire cages also in the Magenta finish.
For the larger seating areas in the space, the team opted for the Factory Overhead 6-Light Chandelier. These industrial-style chandeliers are crafted with six guard-and-glass fixtures sporting a Black finish and mounted on a 48″ stem. The guards are standard with a Black finish and clear glass for optimum illumination.
Even the hallway leading to the bathrooms radiates the Voodoo vibe with plenty of color and an Atomic Topless Multi-Light Chandelier. This American-made chandelier features the same Black finish as the other chandeliers in the brewery along with the standard cast guard, black cord, and clear glass.
"Both we and the owner are very happy with the finished product and the vibe of the interior of the brewery," Stacy says. "It creates a very fun and engaging experience for customers and is an exciting place to dine and have a beer with friends."
Photos by Derek Cress Photography