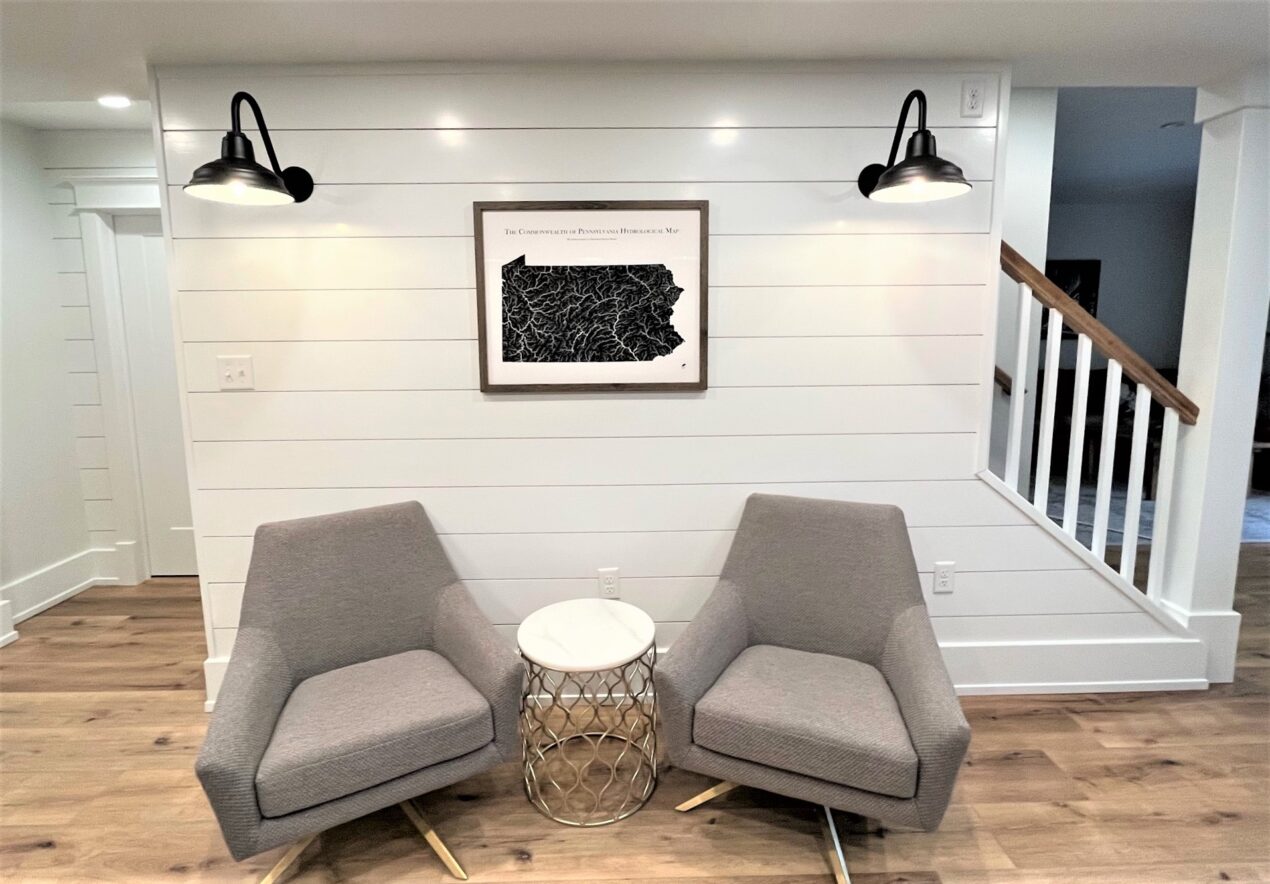 High-Quality Lighting Updates Home with Classic, Modern Look
Rachelle was in the midst of a major remodeling project in her Harrisburg, Pennsylvania, home when a friend mentioned finding some cool vintage lights.
"My friend salvaged some old lights from a local steel mill," Rachelle says. "When I saw them, I loved them! So I searched for something with a similar look but that was not old and beat up. That's how I found Barn Light Electric."
Rachelle remodeled her entire first floor including the kitchen, laundry room, mudroom, great room, office, dining room, powder room, and kid's playroom. She wanted to brighten and update the spaces with a modern but classic look so she opted for traditional neutrals with a calm and inviting feel.
In the kitchen, she chose The Original™ Stem Mount Pendant for it's timeless appeal. She customized these handspun pendants with 12″ shades, a Textured Black finish and 24″ stem.
"Because our kitchen is so light, we wanted more substantial fixtures to break it up a little," Rachelle explains. "We went with the Textured Black for more of a matte appearance which matches the look of our kitchen faucet." Phoebe the pup loves the look!
Rachelle wanted the look of the kitchen to flow into the nearby mudroom which serves as the family's main entrance to the home. She selected The Original™ Warehouse Flush Mount Pendant for this busy space and customized it with a generous 16″ shade and the same Textured Black finish as the kitchen lights.
"We wanted the light to be larger to fill the room," she notes. "But we also wanted it up and out of the way so it doesn't get knocked around as we put on jackets and bookbags."
When the family entertains and relaxes, the bar and lounge area is the place to be. Rachelle decided that the Bomber Pendant Light would be perfect here thanks to Barn Light's plentiful customizing options.
"We went with the Bomber because it was available in a smaller 11″ size. And we could choose the same Textured Black finish that we like," she says. "We went with standard black cords for a more subtle look. Plus, given that it's a bar, things get a little lively sometimes. If someone accidentally hits a light with a pool stick, cords are more flexible than a stem."
Just across from the bar, two Bomber Gooseneck Lights offer illumination over the two lounge chairs. These American-made wall lights have the same 11″ shades and Textured Black finish to match the bar pendants. And the G26 gooseneck arms bring the fixtures about 14″ away from the wall.
"These offer the perfect ambiance lighting when we are entertaining," Rachelle says. "All of these lights are classic, high quality, and we get constant comments on them. Even our contractor who installed them asked where we got them because he wants to use them in upcoming projects that he has in the works."
Photos courtesy of the homeowner