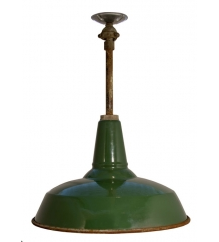 Guidelines for Optimal Ilumination from Porcelain Barn Lights
Benjamin® Stem Mount Pendants were among the first porcelain barn lights sold in the early 1920's. Optimal lighting from these pendants provided a safer and more productive environment wherever they were installed, whether they were placed over an assembly line or a dining room table.

Today, new versions of these classic porcelain barn lights are available online at Barn Light Electric. For a deeper look into the history of original Benjamin® Stem Mount Lighting, keep reading to view excerpts from the 1923 edition of the Benjamin® Industrial Lighting Equipment Catalog. The long term benefits of porcelain enamel coating was explained:
"Of all the materials tried out for industrial lighting reflectors, porcelain enameled steel is the only one that meets all the usually severe requirements of this service. Its reflecting efficiency is high, it is not breakable, it resists corrosion from fume and smoke, it is easily cleaned; in short, it is the most economical in the end and the best for practically all conditions."
Facts About Benjamin® Reflectors:
The porcelain enamel used on Benjamin® reflectors is known as Crysteel – familiar to users of porcelain enameled equipment as the mark of the highest quality possible.
Benjamin® reflectors were among the first porcelain enameled steel reflectors to appear on the market.
The RLM reflector is adapted for general lighting, that is, to give a uniform illumination over an entire workroom which (in nearly all cases) is preferable to localized lighting of special areas.
One of the key advantages offered by RLM warehouse shades, like the Benjamin®, is diffusion. Benjamin's shades diffused the light and improved vision by eliminating sharp glare and directing the light to specific areas, which reduces strain on the eyes and reduces the chance of an accident.
A section from Benjamin® Industrial Lighting Equipment's "Good Illumination – An Industrial Necessity" reads:
"In a textile mill for instance where only white goods are made, a certain degree of illumination may be satisfactory; but if the goods are red, brown or some other dark shade, more light will be necessary. For rough work, a moderate intensity is adequate, whereas for fine work such as weaving, the illumination must be strong enough to enable the operator to handle with ease the individual threads. In fine machine work, a high degree of illumination is required."