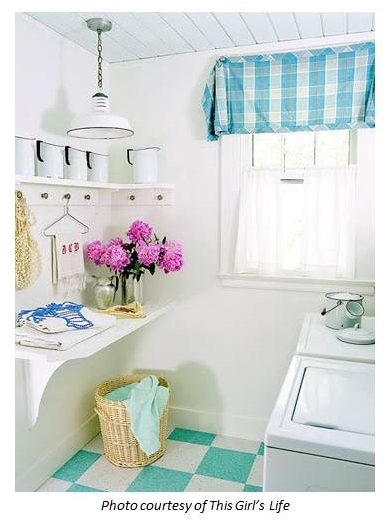 Guest Blogger | Beyond the Kitchen Island: The Versatility of Pendant Lighting
With endless mounting options, shade shapes, and styles, pendant lighting complements any design aesthetic and can be used virtually anywhere. However, the pendant light is most often associated with the kitchen island – and understandably so. It provides the ideal lighting for the task-oriented space and adds interest without interrupting the eye line. But the pendant can do so much more. Here are a few of my favorite ways to use pendant lights beyond the kitchen island:
Above or next to the kitchen sink: The sink is one of the hardest working parts of the kitchen, so why not give it a little something fancy? A line of pendants hung at varying lengths adds interest, while a single, off-center light creates instant coziness. TIP: A chain or a patterned cord adds extra personality.
In the bedroom: For unique bedroom lighting that saves space on the nightstand, replace your bedside lamps or sconces with sleek, minimal pendants. Or, look to the foot of the bed, where a cluster of lights creates a focal point in the room.
In the bathroom: Make over your bathroom without ripping up tile and expensive fixtures. Play with scale by hanging a large pendant in a small powder room or focus the eye with a grouping of pendants in the center of the space.
In the laundry room: The laundry room is hardly the first room we think of when we decorate, which is exactly why it typically needs the most TLC. If space is an issue, try a shorter stem-mount or a true flush mount pendant.
On the front porch: A single pendant hung over the doorway warmly welcomes visitors, while fixtures lining the porch invite long, lazy nights outside. TIP: Stem-mount pendants are a wise choice for exterior locations. See this post for an explanation of wet versus dry versus damp locations.
In a reading nook: All you need to create a cozy book nook is a comfy chair, a small table to set down a drink, and good overhead lighting. TIP: Swag lighting looks picture-perfect nestled into a reading corner.
Above a table: From the coffee table to the craft table, overhead lighting goes a long way in both the form and function departments. TIP: The dining table should be the brightest spot in the room, and the downward glow of a pendant is the best way to achieve the look. Aim for a fixture that is about one-half to three-quarters the width of your table.
Inspired to move beyond the kitchen island and incorporate pendants throughout your home? Be sure to check back on Wednesday for our pendant light installation tips and tricks.
Guest blogger Melissa Andersen is a writer, editor, blogger, and social media manager/consultant for clients 
such as And North, Kaufmann Mercantile, and The Cousins from HGTV