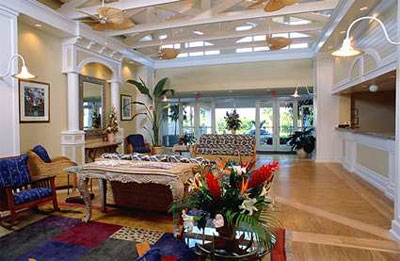 Gooseneck Barn Lights Lend Grace and Style in the Florida Keys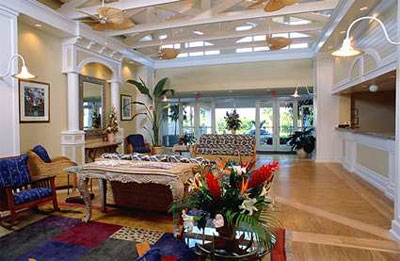 Nothing says laid back and relaxed like the Florida Keys. Mile after mile of heading south on US 1, you're compelled to slow down and take in the breathtaking views. And when you arrive in the southernmost city of the United States, you know you've landed in a place where life is different — even if just for a week. Key West prides itself on an casual and carefree style which is evident in its many restaurants, shops, pubs, and hotels. Many establishments have expansive windows to bring in the island views and front doors that never close to let the tropical breezes flow through year round.
Take this lobby in the Double Tree Hotel Grand Key Resort for instance. As you can see, the space is bright and airy with light wood floors, white touches all around, and handsome gooseneck barn lights lining the walls. These fixtures add a decorative touch of old Florida style and provide gentle lighting throughout the lobby. These lights are very similar to a warehouse barn light called The Comanche. The Comanche is a delightful fixture with a semi-open shade design that allows light to filter out over the top of the shade. This decorative feature makes it an excellent choice for lighting high traffic areas such as this busy hotel lobby.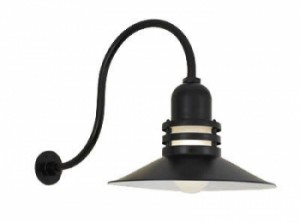 The Comanche can take on many different looks with its variety of customizing options. The shade itself comes in nine different widths from a diminutive eight inches to a very generous 24 inches across. You have as many choices for finish colors as you do for tropical libations in Old Town. How about a bright yellow or cruiser green look? Or maybe a metallic finish of weathered brass or satin copper is more your style. With American made quality and craftsmanship behind it, your Comanche Gooseneck Light will soon become a favorite design feature of your space.
Top photo courtesy of Double Tree Hotel Grand Key Resort