Getting Ready for Summer with a Photo Shoot on Tybee Island
With three miles of uninterrupted public beaches, salt marshes teeming with birds, diverse cuisine, and plenty of casual nightlife, our recent foray onto Tybee Island, just over the bridge from Savannah, Georgia, held plenty of distractions for our photographer Lauren, and her able assistant Julie. The pair were focused, however, on capturing images of some of our newest wall sconces, nautical style chandeliers, and other items for our upcoming Summer catalog.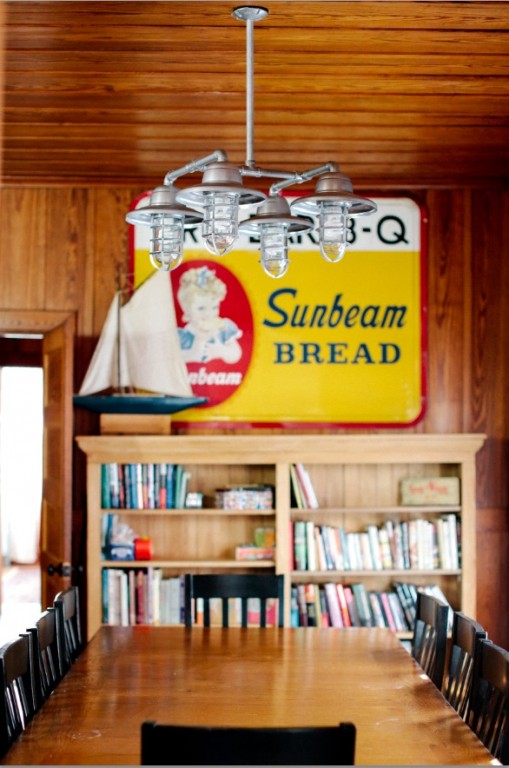 The girls were delighted to collaborate with Diane of Mermaid Cottages who graciously allowed them to use several of her cottages for the shoot along with New York Times bestselling author Mary Kay Andrews who opened up two of her charming cottages for the day. The first one, called Ebb Tide, has a vintage feel with a gracious wrap-around porch that offers lovely views of the island.
Here in Mary Kay's dining room, The Bottom Line 4-Light Chandelier adds plenty of industrial styling with its four cast guard-and-glass fixtures topped by mini shades. This rugged, American made pendant can be customized with finish and guard and glass options.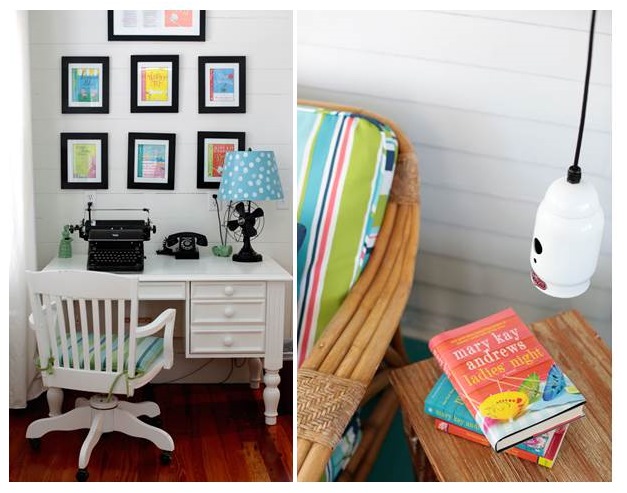 Another cottage owned by Mary Kay called the Breeze Inn, also has a very Americana feel. The master bedroom offers a clean, crisp look with a white-and-cobalt-blue color scheme. A white wooden desk with an old typewriter sits along one wall with some of Mary Kay's bestselling book covers framed above. You can't help but wonder if the author perched there on late nights creating her next novel while listening to the ocean's surf outside the windows. Here, one of our Ivanhoe® Mig Industrial Porcelain Pendants highlights a stack of Mary Kay's tomes just waiting for someone to relax with a good read at the beach.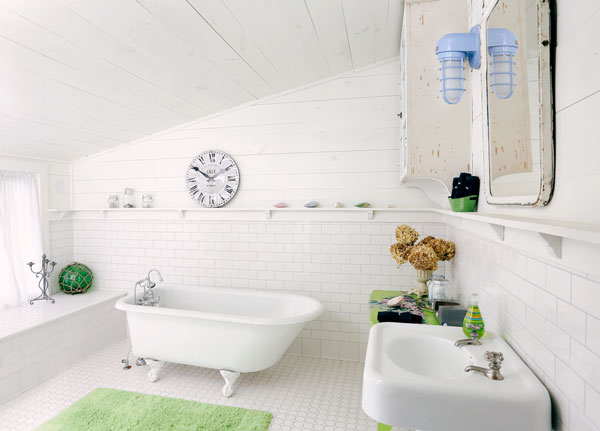 In the Mermaid Manor, a bright upstairs bath features a gorgeous, claw-foot tub with white tile and rustic wood detailing. The Lille Tin Wall Clock adds a lovely vintage touch over the tub with its large Roman numerals while the Atomic Topless Streamline Industrial Guard Sconce in a bright Delphite hue adds a splash of blue to the space.
It was a quick, two-day trip but Tybee Island was a huge success for our first major photo shoot for our summer catalog. The girls had a great time, met some wonderful new friends, and hope to journey back to Tybee someday soon!