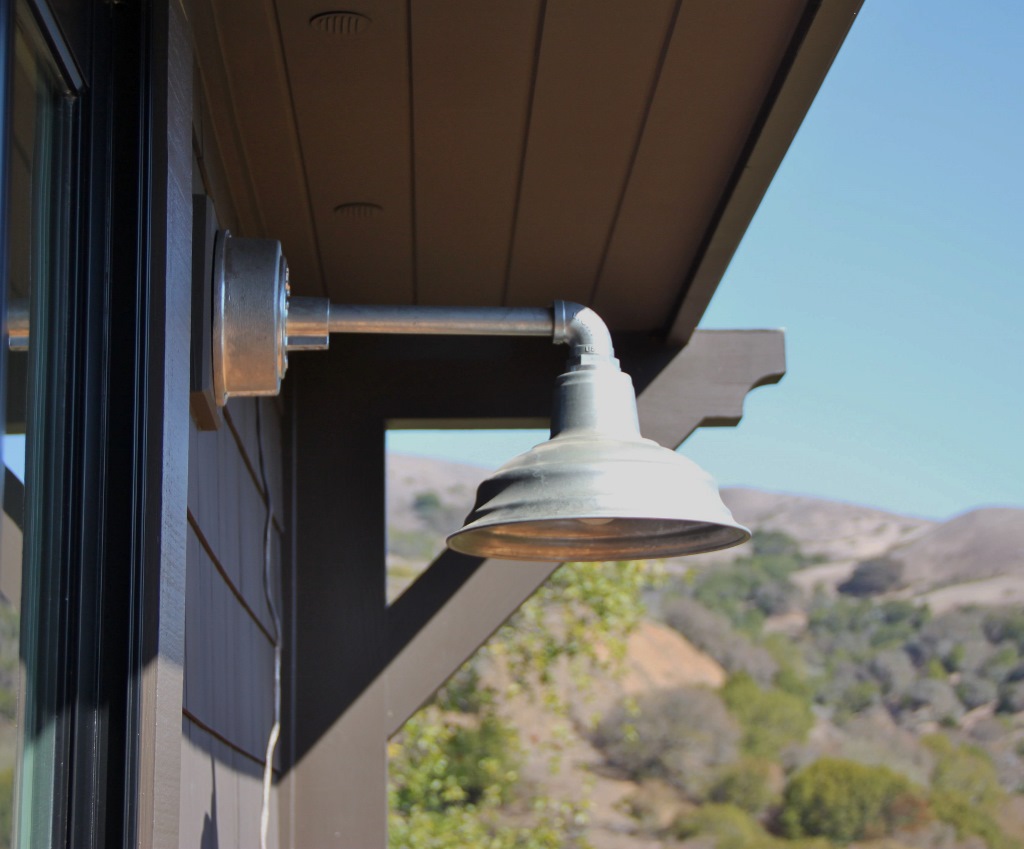 Galvanized LED Barn Lighting Combines Best of Style and Efficiency
Tucked away in the picturesque hills of Marin County just north of San Francisco, today's Featured Customer built a craftsman-style home designed not to stand out but to assimilate peacefully with this beautiful land.
"We tried to contour the home to the land and make it blend into the surroundings," David says. Farm land surrounds the new home, and the homeowners incorporated elements of corrugated metal into the structure to "keep it classic" as David says. This includes galvanized gooseneck barn lights and a cord-hung barn pendant on the exterior. Like many California homeowners, David and his wife Allison focused on energy efficient fixtures that give the home a green certification.
Over the front entryway, David chose the Laramie LED Pendant customized with a 14″ shade, an 850 lumen LED, and a domed lens. While the Laramie has all of the classic style of an American-made barn pendant, it gets a modern touch thanks to integrated LED components.
Outside the game room, David and Allison chose an old favorite — the Bomber Gooseneck Light — also updated with LED components. This fixture features a 17″ shade on a G6 gooseneck arm to take it up and out from the facade.
"We chose galvanized because we wanted something that wouldn't chip, fade, or crack over time," David explains. "The look and feel follows the corrugated metal structure of the house and helps enhance the style of the house."
The exterior of the home features multiple decks to take advantage of the scenery and help broaden the living spaces. For three of these spaces — the parking deck, the office deck, and the mudroom deck — the couple chose a slightly smaller 11″ Bomber Gooseneck Light and customized these with a  G11 gooseneck arm which features a shorter projection than the G6 arm. These galvanized lights also feature the 850 lumen LED with the domed lens.
And for the living room, dining room, and master decks, David stayed with the 11″ shade but chose a straight arm G17 gooseneck arm which fit better underneath the overhead decks.
The galvanized fixtures differ just a bit, but give a cohesive look to David's new home and bring a rustic edge to the space. And while David admits LED lights are not "the cheapest things" on the market, he knows the fixtures will not only save him money but are handcrafted to last.
"We were making an investment knowing we could count not only on the product but on the company behind it too," David says.
Photos courtesy of the homeowner