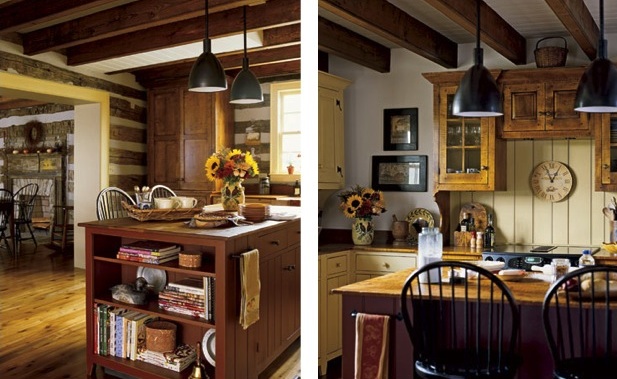 French Country Lighting & Kitchens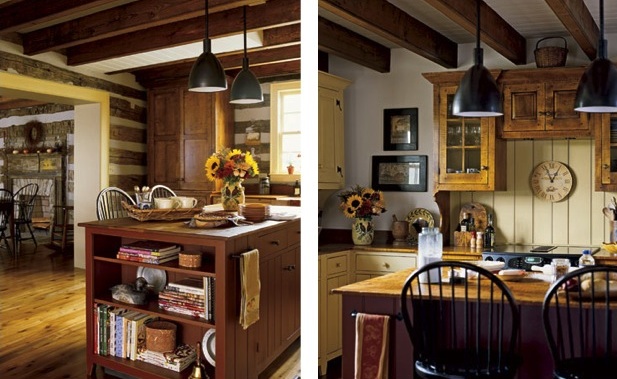 Photo courtesy of Country Living
The French are known for their many things – their Eiffel Tower, pastries, and fine art just to name a few. What we don't often credit them for is their design inspirations. Variations of this style can be seen all over the America today. While there are many elements that make up the French Country style of decorating, the result of each space is warm, casual, and always welcoming.

Lets breakdown the beautiful kitchen above. The array of wood tones in the kitchen create the room's warmth – soft yellow cabinets, pine floors, and reclaimed walnut colored beams. Natural elements are important materials used in this style. Often times you will see rough plastered or stained walls. In this case we see cabin like logs and mortar for some walls, and exposed beams across the ceiling. No French Country home is complete with out a stone fireplace. Glancing to the left into the dining room, you will see such a piece – ready to provide additional warmth during cold winters. Additional texture is brought in by the use of rusted metal furniture, lighting, flower pots, and wool textiles.
While we can't provide lighting with years of rustic charm to show off your French Country space, we can provide similar, more modern fixtures. For the look above, we suggest one of our Barn Light Electric Deep Bowl Pendants. The This particular pendant is available in over 50 finishes and multiple shade sizes. We chose a larger, 16 inch shade in Black. For mounting options, you can choose a standard 7 foot black cord, or a coordinating stem mount. Uneven ceilings may be common in older homes. To solve this problem, we offer an optional hang strait canopy to enable each stem mounted pendant to, well, hang strait! French Country Lighting.