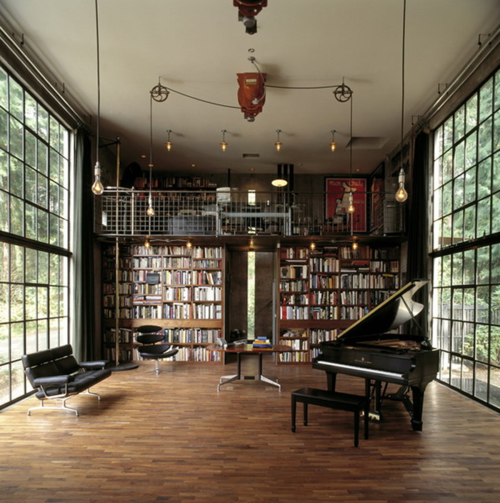 For the Cultured Man: Bare Bulb Pendant Library Lighting
Throughout the week, we've been touching base on the ideal Father's Day gifts. Surely he's seen our suggestions, or maybe you've shown him. Rustic pendant lights along with industrial chic furniture has made it onto that special guy's wish list. After all, what man doesn't enjoy a simple home renovation project; it's something the whole family can appreciate!

The thing is, not all guys are into working on cars, or even grilling out. What could you get that austere, cultured man in your world? Of course, his library or home office could be bland and typical, filled floor to ceiling with the usual assortment of books, memorabilia, and sculptures.
The room is most likely lit by mismatched table and floor lamps, and we're willing to bet that they aren't quite up to the formality of the room. Take a cue from this classic and traditional library, and add four or five bare bulb pendant lights throughout the room.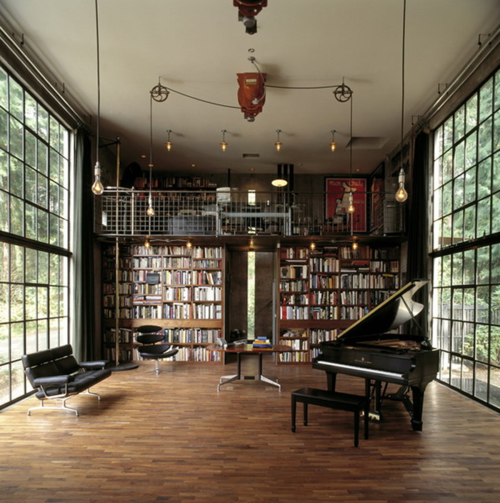 The Indy Industrial Pendant is exactly what it's name implies — industrial. Pendant lights akin to this have been spotted in factory offices and warehouses, but now we're bringing back the minimalist look. Careful not to distract from his collection of artwork, a Nostalgic Edison Bulb will add a decorative element, from the shape of the bulb to the interior looping of the filament. The Edison Cloth Cord Pendant also bears a striking resemblance to these antique light fixtures. For a truly industrial light fixture, add on the wire cage to surround the bulb. In the end, every cultured man can appreciate a little touch of American history and nostalgia, no matter what his "man cave" style is. Anywhere from library to lean-to, a bare bulb pendant light is functional and fancy, each in its own way!
Make sure to take advantage of our Father's Day Sale by liking our Facebook page, and using the coupon code to take advantage of 10% off applicable items!
Top Photo Courtesy of Shelterness.com