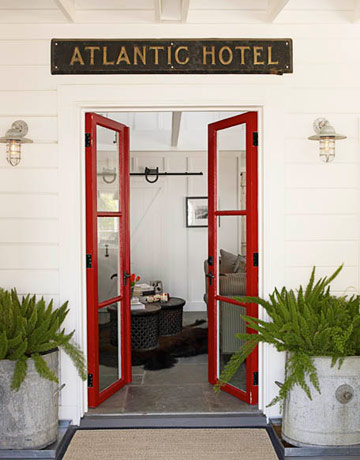 Atomic Wall Sconces Greet Guests with Their Rustic Charm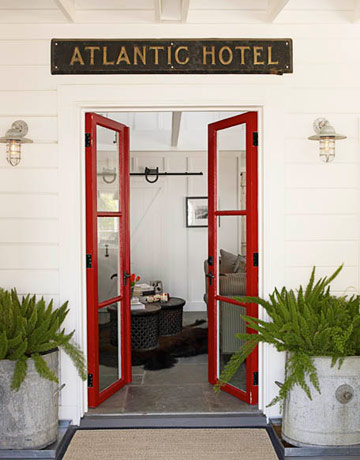 In California, most envision it to be like a land of eternal sunshine and beach frolicking. While the signage above the door reads "Atlantic Hotel," this beachy cottage is located in the Napa Valley, about 70 miles inland from the seashore. Not too bad of a drive to enjoy the cool ocean breeze, right? Featured in House Beautiful for its inviting entryway, it seems like it could be a unique little bed and breakfast, however, this is simply a privately owned home.

Creating the same effect at your home isn't difficult though. Vintage aluminum signs are available all over the internet, along with original Urban Archaeology pieces for sale through vintagebarnlighting.com. Instead of using standard potters, consider a pair galvanized bins to flank your front door with a plant of your choice. Of course, bright green ferns contrast best against the warm red door and crisp white paneling. Who could resist walking right up and peering inside? With such a refreshing entrance, only something just as great could be waiting inside.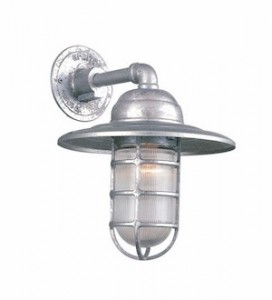 However, nobody can walk up without the light from the pair of Atomic Wall Sconces on either side of the door. Rustic lamps like these have been seen throughout the times, primarily in nautical, seaside areas. Sometimes referred to as cage lights because of the industrial cast guard and glass unit, the socket inside is protected from potentially hazardous elements. For seaside homes, these elements may come in the form of summer's tropical storms. Factory style lighting from Barn Light Electric comes in all shapes and sizes, and are not limited to only these styles. Our American made light fixtures come in painted finishes, as well as authentic copper and brass which are proven to age gracefully under the influence of salty air. Most are UL Listed for wet locations too, meaning they are applicable to any outdoor area whether it be a garage, boat dock or simply the front porch!
Top Photo Courtesy of House Beautiful