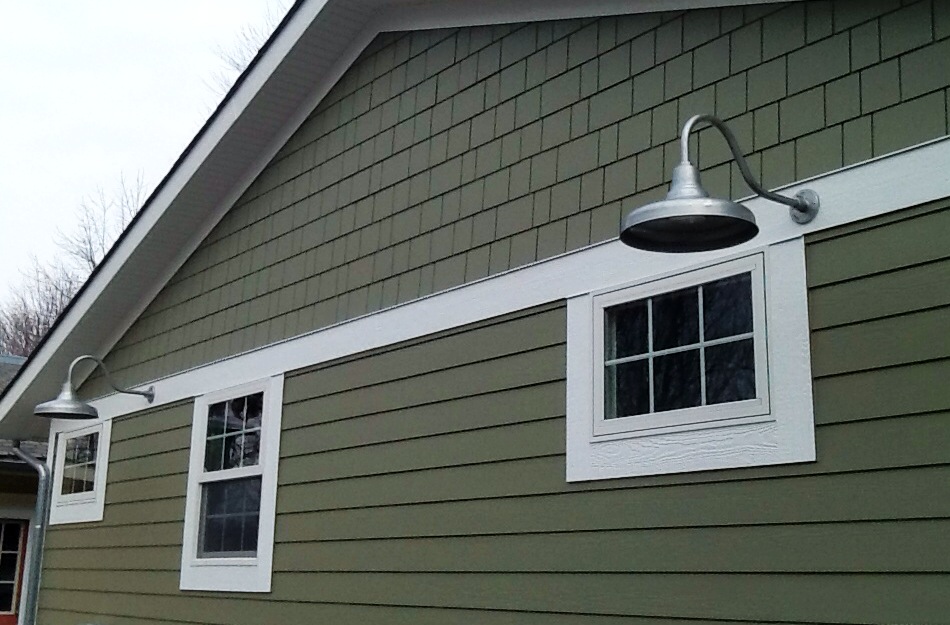 Vintage-Style Lighting Brings Age-Old Character to New Lake Home
Many stout-hearted homeowners tackle major renovations with big dreams. But sometimes, even with the deep pockets that big dreams require, some renovations are doomed from the start. When Jeff and his wife Stephanie, of Columbus, Ohio, purchased a cottage at Indian Lake, they initially planned a major remodel of the structure. But when they discovered the foundation was severely deteriorated, they decided to tear it down and start over.
"We built a 1,000-square-foot, cottage-style lake house that has some vintage, barn-style characteristics," says Jeff, president of Chester A. Smith Marble & Granite Company, an 86-year-old marble and granite fabricator in Columbus. "We plan to use the cottage year round as a weekend getaway."
The couple wanted to add appropriate lighting to complement the vintage touches they gave their new home and found Barn Light Electric during an online search for exterior barn light fixtures.
"We wanted to use vintage galvanized barn lights on the exterior to complement our galvanized gutters and downspouts," Jeff says. "We also thought the barn lights would complement the combination plank and shingle exterior of the cottage." The couple chose two Union Gooseneck Lights for the back of the cottage. They customized these classic, American made gooseneck wall lights with a 16″ shade, a Galvanized finish, and a matching Galvanized G22 gooseneck arm.
In the kitchen, Jeff and Stephanie chose a pair of beautiful glass shade pendants to highlight their bronze-colored, honed granite countertop. The Bronzed Wired Glass Pendant features a bronze patina and white opal glass.
"The black cords and wire cages give a vintage look that goes well with the rough-sawn exposed wood beams in our open family room," Jeff notes. They added nostalgic Edison Style Light Bulbs for a warm glow.
For the bathrooms, Jeff chose the 10″ Bantam Laramie Wall Sconce, one in Navy and one in Bronze, to hang over the vanity mirrors.
"We really liked the vintage look of the sconces and the colors complement the respective honed granite vanity tops in each bathroom," he says. "We were very impressed, as was our electrician, with the quality of all of the products and the appearance was exactly what we were looking for in each fixture."
Photos courtesy of Jeff Johnston, president, Chester A. Smith Marble and Granite Company