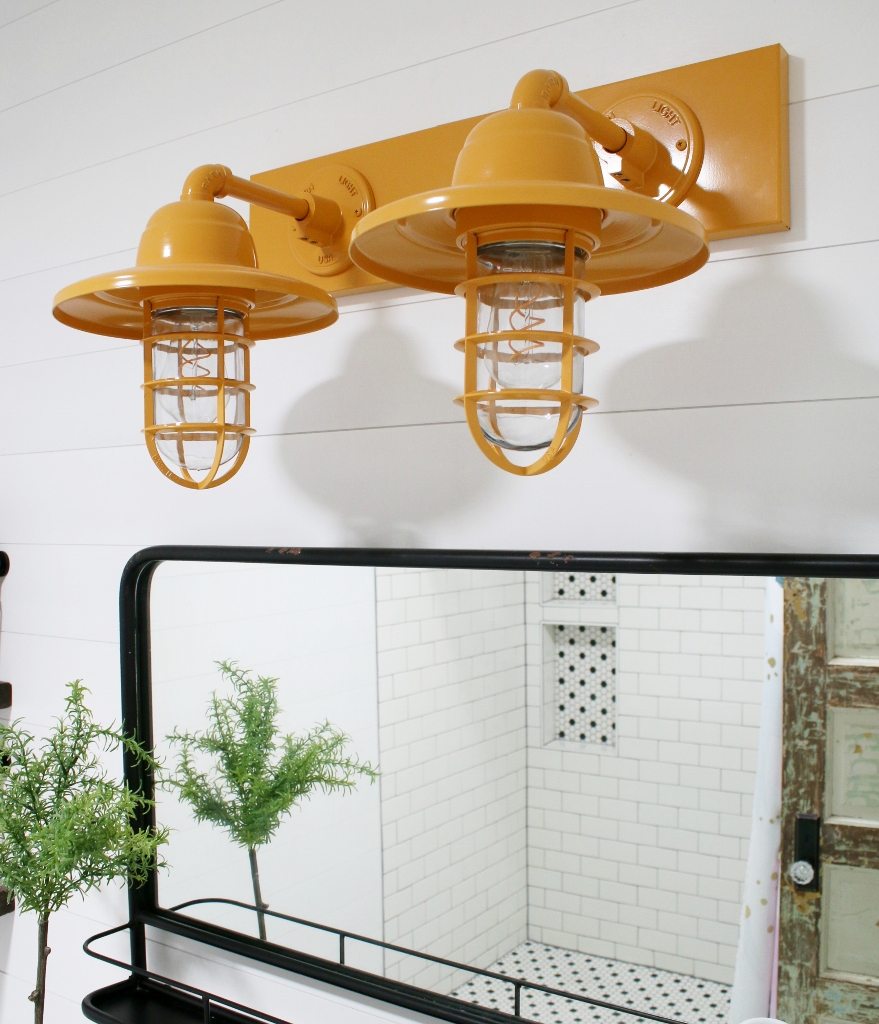 Vanity Lights Add Pop of Color to Farmhouse Bath Remodel
Last October, we featured the transformation of Kelli's front entry and hallway of her childhood home. Kelli, who writes the Lolly Jane blog with her twin sister Kristi, has been slowly renovating the 40-year-old farmhouse with dedicated followers watching the progress on her blog.
Today, Kelli is sharing the reveal of her latest efforts — a major bathroom project.
"This is our kids' bathroom but also our guest bathroom so it's used frequently," Kelli says. "It was falling apart, and we wanted to restore the space to its original era. We love the classic feel of the mid-1900s and wanted to keep our childhood memories intact."
After replacing all of the plumbing because it was leaking and corroded, Kelli set her sights on embracing the home's history while making the space functional and fun.
"I love classic black-and-white farmhouse decor, but I also love pops of color," she explains. "An aqua vanity paired with mustard-colored lighting looks so cheery against the white shiplap walls."
Kelli chose the Industrial Guard Double Vanity Light to highlight the new vanity. She customized this American-made wall sconce with our Paint-to-Match Porcelain Yellow finish, a standard cast guard, and clear glass.
"I love the double lights that add length which was functional," Kelli says. "But I also love the shape which fits into the theme of the room." This double vanity light has roots in the nautical lights once prominent on turn-of-the-century ships. Each guard-and-glass fixture is topped with a mini warehouse shade and can be customized with one of more than two dozen finish colors.
"The yellow was the perfect color to bring out the accessories like the linens and the rug," Kelli notes. "Yellow was a surprise color and, because it's a deep yellow, it really adds to the maturity of the room instead of being too playful." Kelli is pleased with the rugged construction of the light and how much illumination it offers even in the shower area across the room.
"The kids can't hurt anything in here which is nice, but it's so pretty to look at for guests," she says. "We are thrilled with the quality and look of the light. We just love this space!"
Photos courtesy of Lolly Jane