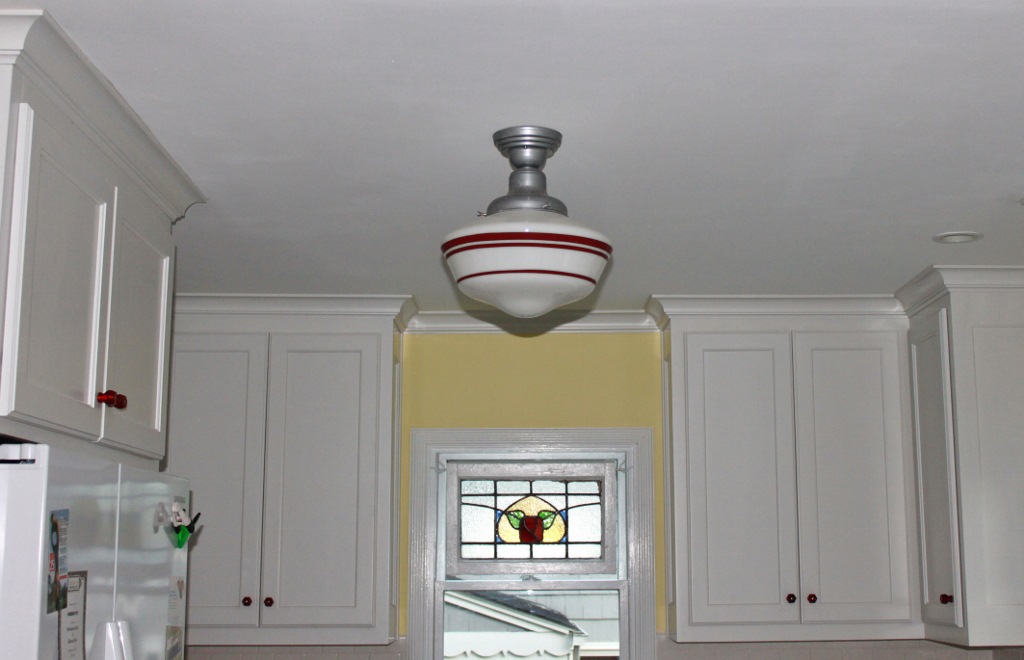 Schoolhouse Pendants Crowning Touch in Tudor Kitchen Remodel
Remodeling projects often start out small. Maybe a new paint color in the kitchen would be nice. Or new hardware. How about a new light?! And sometimes these projects snowball and take on a life of their own. Anne in Kansas City, Missouri, liked her kitchen, yet after much deliberation, she decided to jump in with both feet for a full-scale renovation.
"We live in a 1940 Tudor Revival home," Anne explains. "We gutted the original kitchen and reworked the entire space." The changes included removing a wall between the breakfast nook and the kitchen, moving an interior doorway, and moving and expanding the exterior doorway.
Through it all, Anne strived to protect the integrity of the home's period architecture within the new design all while staying within her budget.
"We liked our original kitchen, but it had significant issues with flow, counter space, and access to our backyard patio," she explains. "Our architect, Judi Bauer, and contractor, Mike Raimo, worked with us from the beginning to ensure the kitchen looks like it belongs in this house."
The crowning touch came with the addition of two Primary Schoolhouse Semi-Flush Mount Lights, part of our growing collection of Schoolhouse Lighting.
"We chose this light fixture for our kitchen because the design is clean and timeless," Anne says. "It matches the period design of our kitchen. The fact that we could basically design the fixture ourselves through the customizing options sold me on this specific schoolhouse light."
Anne chose the large size fixture and opted for the Galvanized canopy and fitter then chose a triple painted band of opaque Barn Red for the hand-blown glass globe. American made from quality materials, the iconic schoolhouse globe is also available as a wall sconce, gooseneck, cord or chain hung light, vanity light, or multi-light chandelier.
"The Galvanized finish gives some shine without looking too modern or new," Anne says, "and the triple band of red ties in with the red pencil tile we put in the white back splash as well as the red glass hardware on the cabinets."
When the dust settled, Anne was very happy with the final look. "It is a retro, 1940s-style kitchen with modern conveniences," she says. "I love that the lights are unique, that we designed them, and that they look like they have been in this house for 75 years."
Photos courtesy of the homeowner