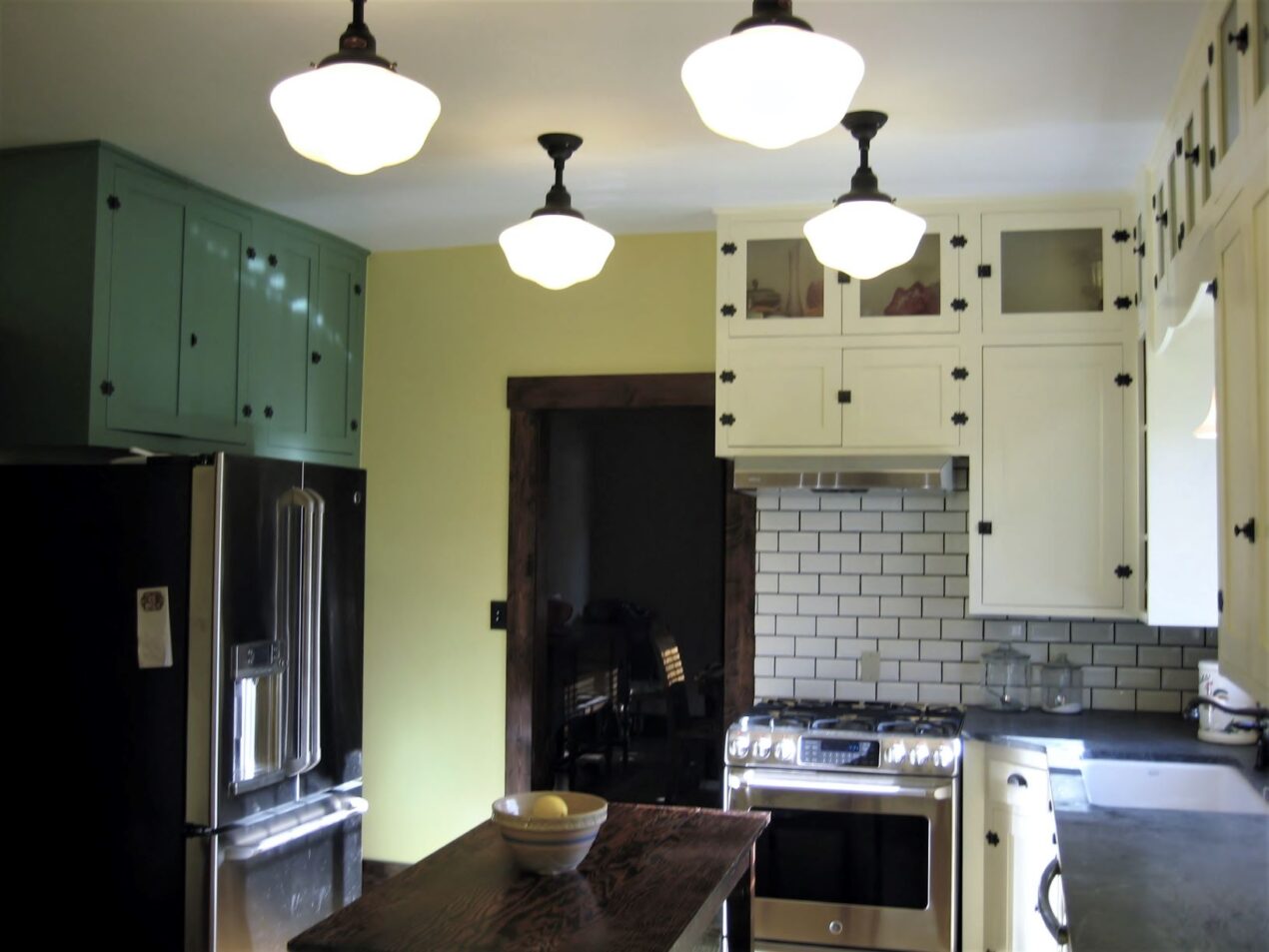 Schoolhouse Lights Icing on the Cake in Kitchen Remodel
Remodeling projects are like a bowl of Lucky Charms. You have to get through the mundane, albeit necessary, details (think bland oats) before you get to the good stuff, ie: those colorful marshmallow bits!
Kristine lives in the historic district of Nampa, Idaho, and tackled a kitchen remodel in her 1920s-era bungalow. Finding the perfect vintage schoolhouse lights were the icing on the cake for her.
"The lights were the last thing I ordered when the kitchen was just about finished," Kristine says. "I knew that would be my favorite part of the kitchen and I wanted to save the best part for last." The home belonged to Kristine's grandparents and the kitchen was last updated in 1959. Her goal was to remodel the kitchen back to 1920 but with modern touches.
Kristine put together a book of inspiration with images she gathered from This Old House magazine.
"I knew I wanted at least one schoolhouse light in my kitchen since these lights fit so perfectly into the era of my house," she says. "In the end, I decided that they would not only be practical but would become a design feature in the kitchen with two rows of three lights which was inspired by a picture in my inspiration book."
After seeing an ad for Barn Light Electric in This Old House magazine, Kristine browsed our website numerous times before choosing the Primary Schoolhouse Stem Mount Pendant Light to replace her old fluorescent lighting. She customized these vintage light fixtures with a large globe, a Textured Black canopy, and a 3″ stem.
"I chose this light because it was the basic, beautiful schoolhouse light that would give my space the warm, cozy feel of a 1920s kitchen," Kristine notes. "They look almost like art to me." The Primary Schoolhouse Stem Mount Pendant is an American-made fixture with hand-blown glass and a variety of customizing options.
Kristine was out of town when the lights were installed and a picture was sent to her after the lights went up. She was thrilled with the look and even happier when she got home to see her new kitchen in person.
"Now when I walk in, I'm amazed that I was able to get my dream kitchen," she says. "And the lights are the best part about it!"
Photos courtesy of the homeowner