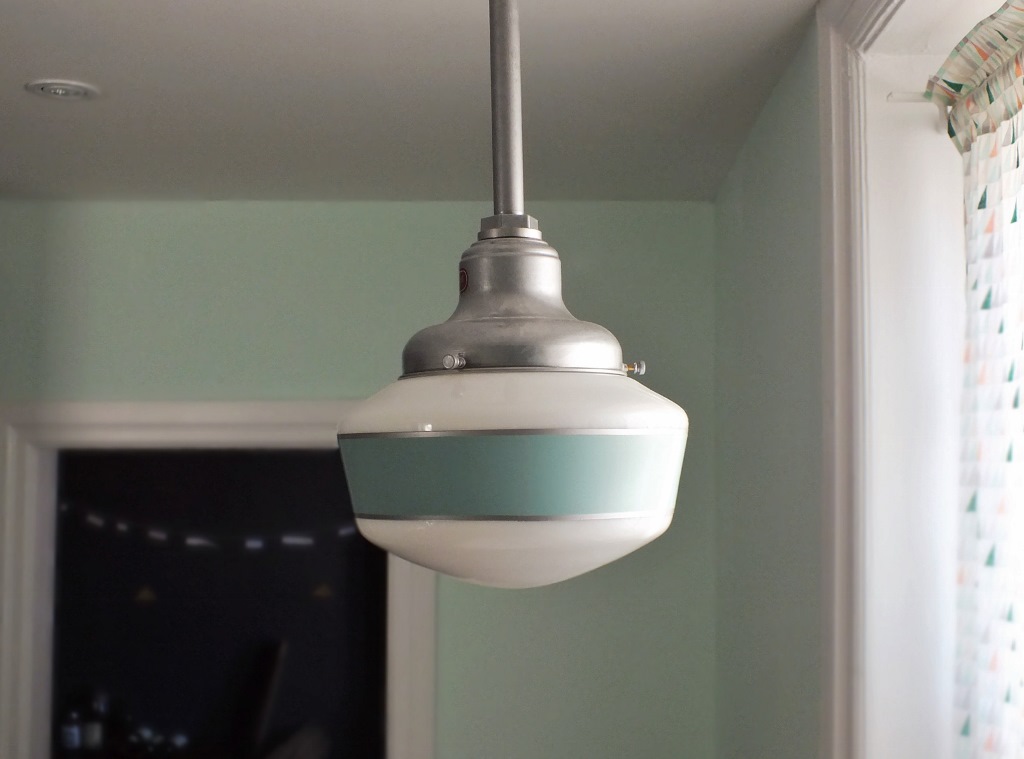 Schoolhouse Pendant Serves as Anchor in Kitchen Remodel
Gut remodel. The very words conjure up images of chaos, exposed studs, dangling electrical boxes, and lots of dust on bare floors. And when the target is the kitchen, take-out containers are definitely in the mix.
Along with the headaches, a gut remodel also presents an opportunity to create a new space, save good bones, and right the wrongs from previous remodels.
For Maura in West Philadelphia, Pennsylvania, the gut remodel of her kitchen offered the chance to open up a dark space and create a bright, inviting area that pays homage to the character of the late 1800s-era building where her condo is located. Maura chronicled the Great Kitchen Renovation of 2014 for her blog The Projectory.
"There is still a lot of original detailing throughout the condo, so we wanted to make sure our update fit in with the character of the rest of our space," Maura says. She and her fiancé, Nikki, chose the Primary Schoolhouse Stem Mount Pendant Light to bring much-needed light into the kitchen and to serve as a focal point in the new design. One of the most popular fixtures in our collection of Schoolhouse Lighting, the Primary Stem Mount channels these historic schoolhouse pendants with its iconic hand-blown glass globe and custom painted bands of color.
Maura customized their ceiling pendant with a small globe, a Galvanized 12″ stem with matching Galvanized canopy and fitter, and a single opaque painted band of Jadite. This Jadite color became the inspiration for other elements in the kitchen.
"At first, I was dazzled by the array of custom finish options, but I kept coming back to the model featured on the website. I just loved it so much," Maura explains. "So that's what we ordered and we used the Jadite as the base for our wall color, going with a lighter shade of the same color."
The previous kitchen design had dropped ceilings, dark walls, and no overhead lighting. The couple wanted to open up the space without knocking down walls so they picked these lighter colors and opted to go without overhead cabinets on the north wall where the light is located.
"Taking out the wall cabinets really allowed the light to be the focus on that side of the room and it adds so much," Maura notes. "At night, it's exactly the right amount of light when you pad down the long hall to the kitchen to get a glass of water." American made from quality, commercial-grade materials, this classic schoolhouse pendant will be shining in Maura's kitchen for years to come.
"The light definitely fit our aesthetic," she says. "It manages to feel very current and fresh with a very classic and retro shape. It's perfect!"
Photos courtesy of The Projectory