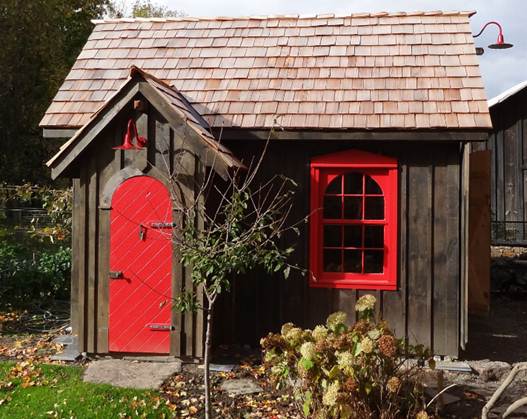 Featured Customer | Radial Wave Shades Enhance Garden Shed in Canada
"We live in a 200-year-old farmhouse," explains Ralph, our Featured Customer from Millgrove Ontario. "The old garden shed on our property had lived well past it's 'best before date' and needed to come down." Ralph wanted to build something in keeping with the old board and batten Ontario barn style.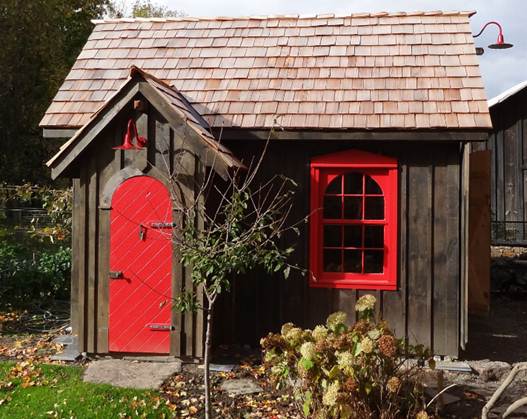 "I wanted it to look like it had always been there," Ralph says, "and, of course, it had to be a functional garden shed." With that in mind, he designed a 10′ x 16′ shed with a 9′ ceiling inside complete with a loft. He also added a loft door and lift post which are traditional elements on this classic style of barn. One end has large, drive-in doors, below the loft, for the lawn tractor, and a second door on the side has a gable to add even more character.
"It all came together well," Ralph says, "but it needed the traditional gooseneck barn lights over both doors." After some time on Google and talking with friends, Ralph discovered Barn Light Electric.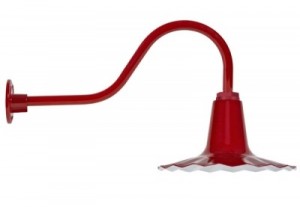 "We found exactly what we wanted to give our new shed the perfect finishing touch," he says. Ralph chose the 14″ Starfire Radial Wave Reflector Gooseneck Light. One fixture sports the G15 arm while the other was outfitted with the G22 arm. Ralph chose the Barn Red finish of course which is the perfect complement to the red door and window.
The Starfire Radial Wave Reflector shade is a popular gooseneck light and is typical of the shades seen at roadside gas stations back in the 1930s. There are a dozen beautiful finish colors to choose from and the fixture can be further customized with cast guard and glass. Coordinating fixtures, such as the Starfire Radial Wave Reflector Pendant and Sconce are also available.
"We were not disappointed," Ralph says about his new lights. "The fixtures look great and provide the ideal lighting."
Photo courtesy of the homeowner