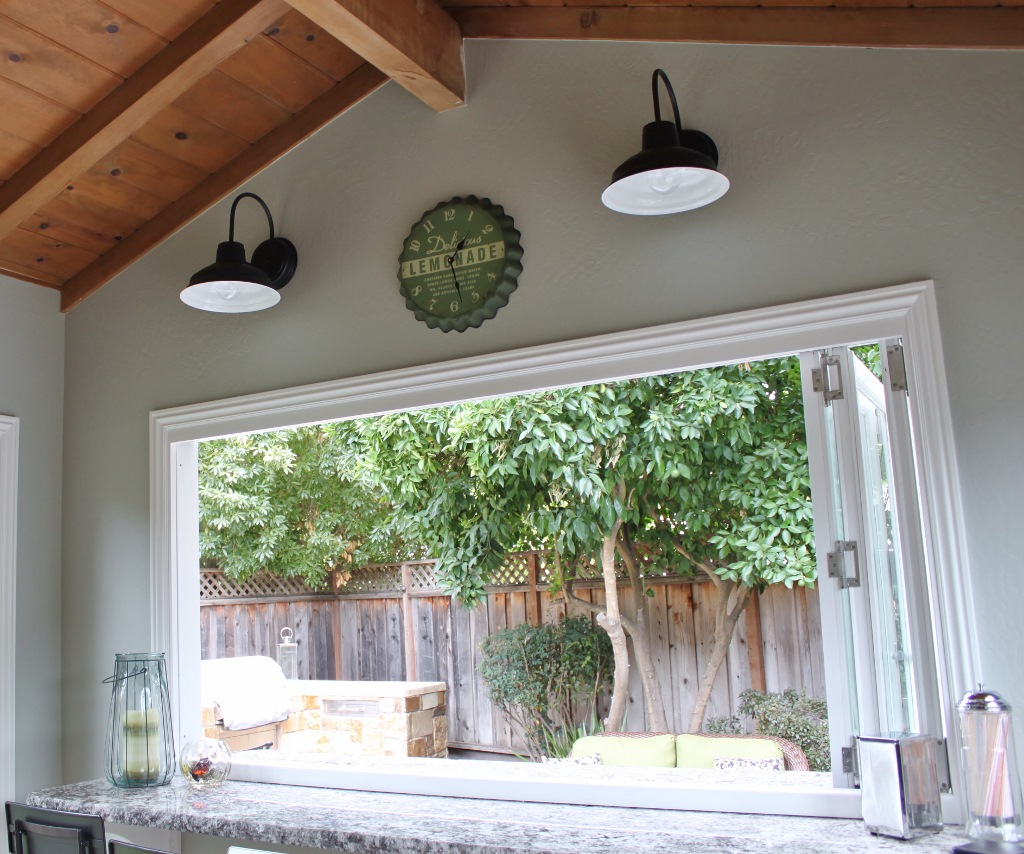 Q&A with California Homeowner on Kitchen Remodel
A complete overhaul of the kitchen is not for the faint of heart. When Angie and her family decided to renovate one of the busiest spaces in their northern California home, they wanted not only more room, but more functional space that could handle both their family and frequent guests comfortably. Here, Angie gives us her take on the project and why they chose barn pendants and wall sconces for their new kitchen and dining area.
Q: Why did you decide to renovate your kitchen?
A: We are casual people with young children and we like to invite other families over to BBQ. Mostly, though, we want our kids to be able, and want to, hang out with their friends at our house as they get older. The kitchen and family room are the place we spend most of the day when we are home, so we wanted to make the kitchen and connected areas more spacious and inviting.
Q: What were your goals for improving this space?
A: It was important to us that the kitchen was functional and that the style "fit" with the rest of the house, especially our newly updated backyard. Our old kitchen could really only support one cook. Now, with the island, we can separate the prep area and the cleaning area. We are already finding we can be much more efficient while cooking or even just getting out of the house in the morning because all of us can be in there. Since the kitchen is adjacent to the backyard entertaining area, which we use a lot, we wanted to be able to bring that outside feeling into the house. The idea evolved into a pass-through counter, like a restaurant. The cafe bar has been a huge hit already with friends and also a great spot to work late at night with our laptops.
Q: What attracted you to the American made Bomber Wall Sconce?
A: To achieve the restaurant feel, we wanted the two inside sconces to be the same as the two outside sconces. Your product was the right choice because of their durability to withstand outside weather plus they don't look out of place indoors. Again, we wanted something simple and understated, but different with character. Of course, we chose black so it matched the pendants and the granite counter on the cafe bar.
Q: What would be your number one piece of advice for someone remodeling their kitchen?
A: It was overwhelming when I thought that I had to pick out before we got going. But someone gave us good advice which completely changed my mindset. The person suggested that we choose the three or four items we really wanted or goals we had for the remodel and everything else would fall into place around those things. For us, these things were: 1) storage and function which meant a large pantry, large fridge, and more counter space; 2) timeless colors and materials in our olive green island, unique countertop, simple pendants, and colorful subway backsplash, and 3) bringing the outside in with windows and subtle floor color.
Q: Now that your kitchen is complete, what do you like best about your lights and the space overall?
A: I think the biggest testament to how much we enjoy the lights is that we use them more than the recessed cans on the ceilings. They add great character to the space. The pendants are the go-to source for lighting during the day and also at night. They fit our vision and our style perfectly. And when we were away for a few days this summer, it felt like we were going on a vacation when we came home!
Photos courtesy of the homeowner