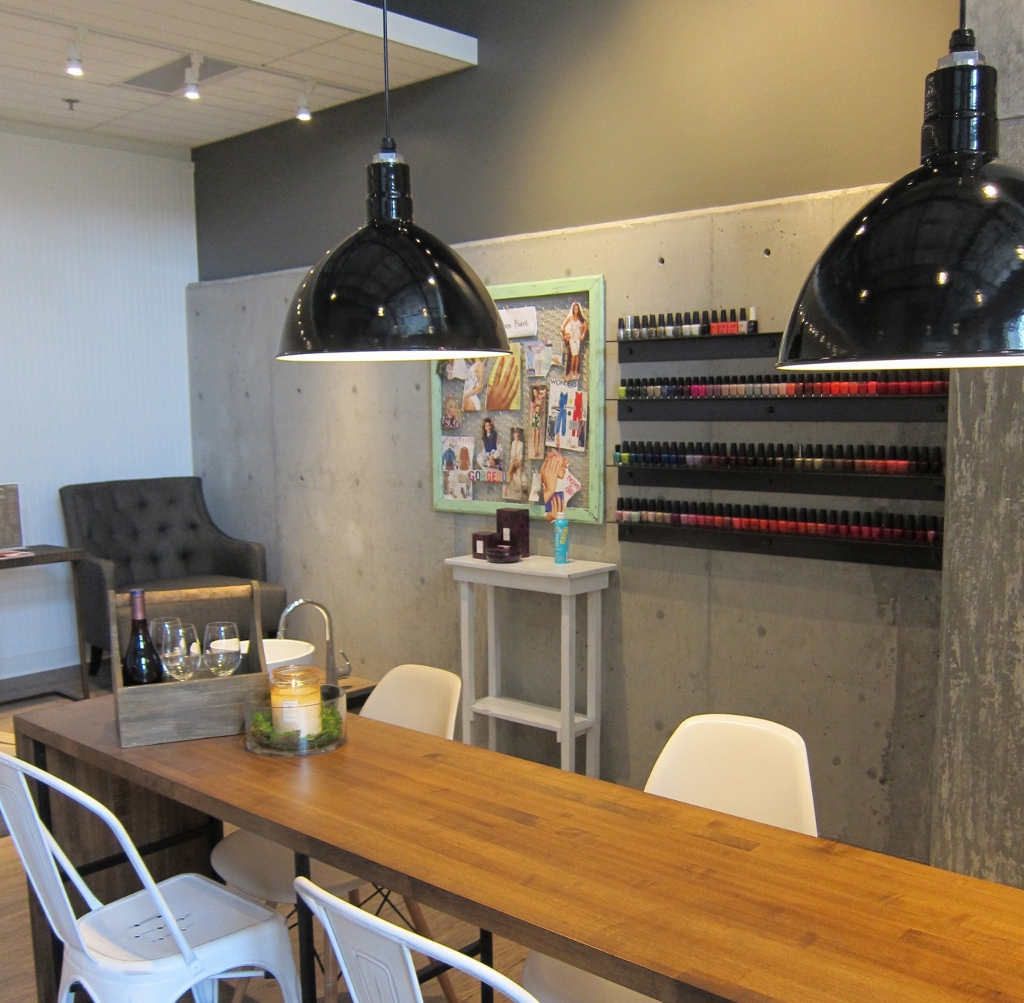 LED Deep Bowl Pendants Add Rustic Modern Style to Spa
Ah, a day at the spa. Lounging in fluffy white robes, enjoying a relaxing facial, and maybe even getting a warm cream massage to get those nails looking fine.
Reality check. Who has time for that?!
If you're lucky enough to live in Bellevue, Washington, there's a new spa called Recoop that caters to busy people who still want to enjoy the benefits of personal pampering. Grace Lo Hackerman, founder and owner, wanted to create a spa with exceptional treatments and products in a modern environment yet conceptually different from the spas she visited through the years.
She even offers day care. Back to the ahhh…
"Unlike a lot of spas that feel zen/eastern or corporate, I wanted Recoop to feel comfortable, relaxing, and chic," Grace says. Time spent in Texas gave Grace much of her inspiration for the space including the deep bowl barn pendants she chose for the nail treatment area.
Grace chose four of our Wilcox LED Deep Bowl Pendant Light for the space customized with a 16″ shade, Black finish and standard black cord. She also chose the 850 lumen LED with a flat lens which brings plenty of bright light to her tables. These American-made LED pendants not only use less energy but also generate less heat which makes clients more comfortable sitting beneath them.
"The pendants give the space a vintage feel but don't overpower the space or take away from other features that make Recoop different from other spas," Grace notes. "These pendants provide so much light for our nail technicians to do amazing designs!"
By combining the superior qualities of a porcelain enamel finish with the energy-saving benefits of LEDs, Grace won't have to worry about her commercial lighting anytime soon. She can keep the high-gloss finish looking like new with a simple cleanup and the LEDs are guaranteed to last 50,000 hours.
In the bathroom, Grace went with a classic gooseneck barn light with the added benefits of LED. The Original™ Warehouse Gooseneck Light is customized with a 12″ shade, a Galvanized finish, and a G26 gooseneck arm to position it perfectly over the sink. Grace stayed with the 850 lumens and flat lens for the gooseneck light as well.
"The rough silver finish goes well with the crisp white features of the bathroom and adds to the rustic feel," Grace says. "It's the only light in the bathroom so it really gets a lot of attention!"  The best thing about her new lights, according to Grace, is that they look like they belong in the space.
"They're interesting enough to command some attention, but they don't detract from the rest of the spa," she says. "They are the perfect amount of rustic modern and super chic!'
Photos courtesy of Recoop Spa