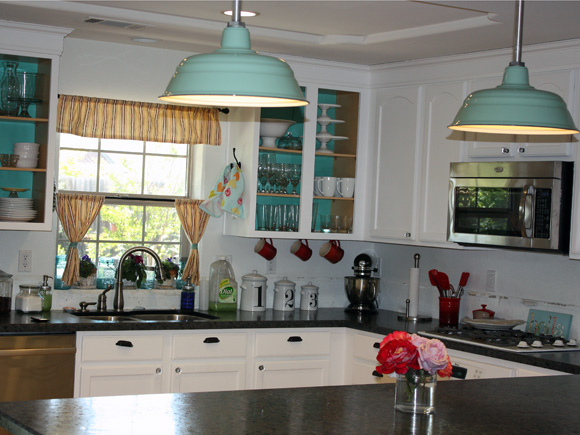 Featured Customer | Jeannett at Life Rearranged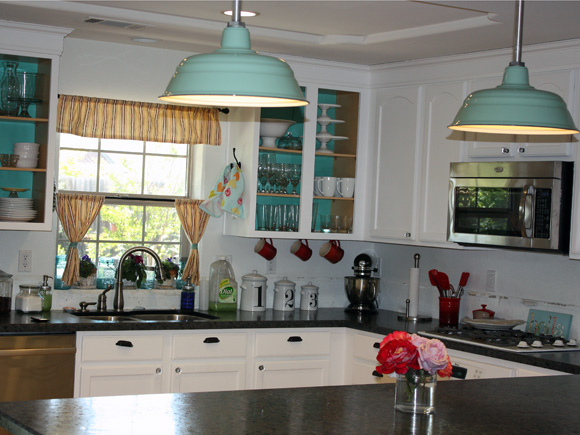 Regardless of the size or style of their home, our customers always find a way to showcase their ingenuity and creativity with our pendant lights. Today we'll introduce you to Jeannett and her blog titled, Life Rearranged.

While she did just blog about a DIY kitchen remodel, Jeannett's site is anything but your typical blog. On Life Rearranged, her posts aren't only confined to her life, but she also opens up the format to topics that can touch reader's lives. In an effort to raise awareness and funds for related charities, adoptions, or causes, guest bloggers will post their stories on Life Rearranged.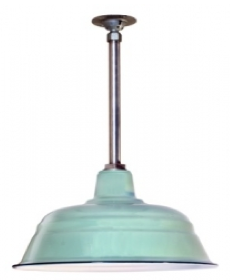 Keeping readers in the loop of what's going on at their own home, Jeannett and her husband tackled quite the project. The kitchen is never an easy or quick fix – especially with young children to feed! Late last week, we received the final results. Two of our own Benjamin® Bomber Stem Mount Pendants in a Jadite finish were installed above their island. The amount of light the pendants give off is far greater than the previous overhead can lighting. You can see from the photos below how much the lighting has improved!
Each stem mount pendant shines over an area of the counter that doubles as a table for quick meals and snacks. The Bomber is the largest porcelain shade sold at Barn Light Electric and the vintage Jadite finish chosen ties into other accents around the room. A close look at the before and after comparison photos reveals the remarkable transformation achieved by adding the lights, painting the cabinets and installing new counters!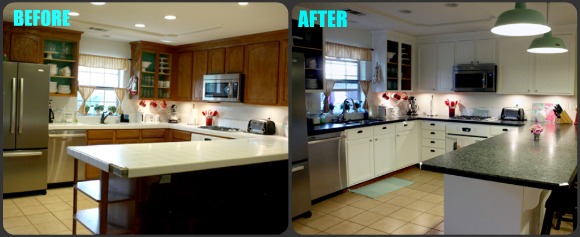 A job well done, don't you think? If you'd like to show off your own projects, we'd love to see how you used our lights. Sending us photos is easy – to do so, just click here.