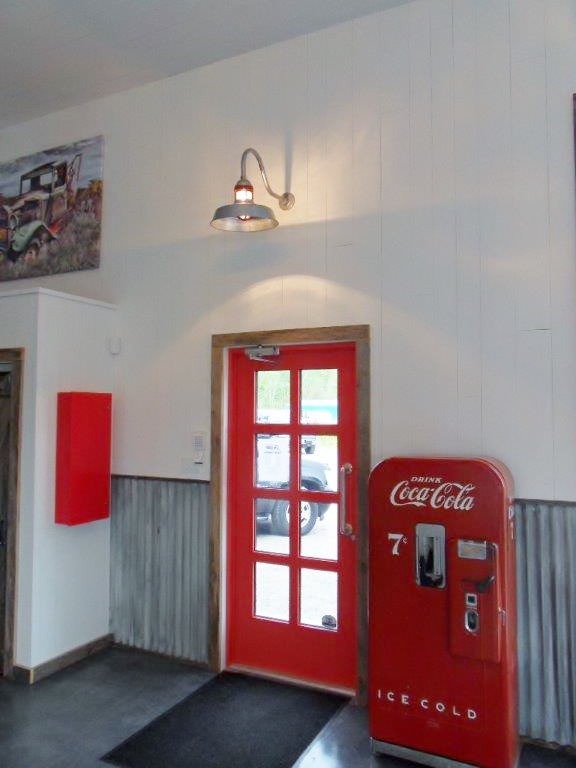 Industrial Lighting Handles Canadian Weather with Style
In the northern reaches of Quebec, Canada, winters can get pretty brutal. At least by our sunny Florida standards! Our friends at Seulement Camion (that's "trucks only" for non-native speakers) recently opened their new business in La Sarre and needed lights that could not only withstand the environment, but would provide a welcoming atmosphere to truck-buying customers.
The new space uses plenty of rustic elements throughout such as reclaimed barn wood walls, inviting leather chairs, and an earthy palette of browns and grays brightened with barn red accents. Industrial lighting in the form of gooseneck lights, warehouse shade pendants, and multi-light chandeliers provide plenty of light and visual interest to the public areas.
"They bring a great charm and atmosphere to our trade and we are very satisfied with the lighting," says Maude Gobeil, one of the project directors for the new building.
In the main waiting area, two Factory Overhead 6-Light Chandeliers watch over the transactions taking place and offer sufficient light even during cold, dark winters. These rugged chandeliers were customized with a Galvanized finish, heavy duty cast guards and clear glass. American-made and full of unpretentious style, this factory light is perfect for any industrial setting.
Three Sydney Gooseneck Lights were chosen to highlight the doorways. These handsome gooseneck lights are easy to customize with shade size, finish color, plus guard, glass and gooseneck arm options. Maude chose the 16″ Galvanized shade for these fixtures and added a striking Barn Red guard with clear glass. The red finish complements the other red details in the space including the vintage Coke machine. The G22 gooseneck arm projects the fixture more than 21″ from the wall to provide plenty of downlighting onto the doorway.
The lucky person with the corner office also has the added bonus of an Bomber Pendant Light in a sleek Graphite finish. The addition of a red-and-white chevron cord adds another hint of accent color to the space. Like all of our porcelain enamel fixtures, this fixture is hand spun from commercial grade steel and coated with three layers of porcelain enamel glass to create a high gloss, durable finish that will last for years.
Outside, customers can't miss the new signage, even during a blizzard, thanks to seven Original™ Warehouse Gooseneck Lights that shine from above. These classic barn lights are customized with an 18″ shade, a Barn Red finish and the G22 gooseneck arm. One of our best-selling, warehouse style shades, this gooseneck light comes in five shade sizes and 19 durable powder coat finish colors.
"We are very proud of our project construction," Maude says. "We have received many compliments about the décor." We think you did a great job too Maude! Thanks for sharing the photos!
Photos courtesy of Seulement Camion