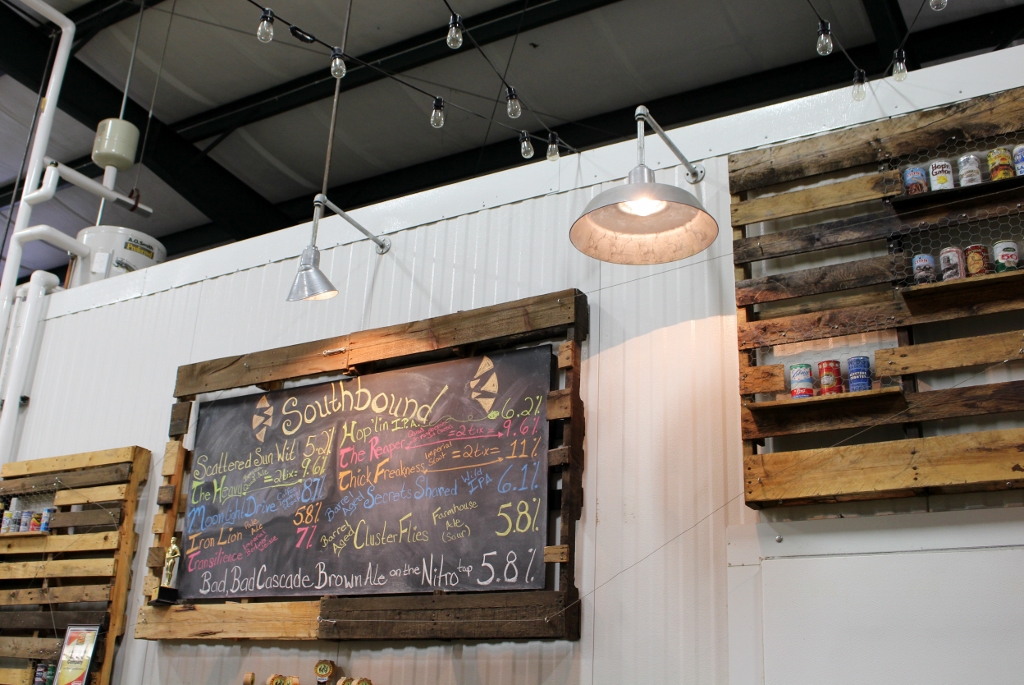 Craft Brewery Imbues Space with Industrial Lighting
On our recent swing through Savannah, a laid-back southern city rich in history, we visited the Back in the Day Bakery where we dined on farm-fresh veggie sandwiches under the glow of Barn Red Bomber Pendant Lights. After lunch, we decided to check out Savannah's first production microbrewery just a few blocks away.
Southbound Brewing Company opened its doors in 2013 and has been serving up an array of ales, stouts, whitbiers, and more to residents and tourists alike. The brewery space feels like a warehouse and is topped off by a giant ceiling fan with an 18-foot blade span that keeps the space amazingly cool.
"All production takes place here as well as promotional events, tastings, concerts, and private events," says Smith Mathews, brew master and managing partner of Southbound. Smith wanted to embrace and enhance the industrial feel of the space so he chose barn-style lighting and added pallet shelving and old beer cans to help set the tone.
"Barn style lighting is very relevant along the coast here," he says. "It is industrial looking and mixes well with what we were trying to achieve." Smith chose The Original™ Warehouse Gooseneck Light to brighten up the bar area. These hand-spun lights feature an 18″ shade crafted from commercial grade aluminum with a Galvanized finish.
"The galvanized finish matches other equipment we have and the piping that is present in the warehouse so it was a natural choice," he adds. Behind the front desk, two Elliptical Sign Lights, also in a Galvanized finish, shine brightly on the t-shirts, koozies, and other brewery bling.
"The sign lights are very directional and offer good lighting with a cool design," Smith notes. "We love how they look and get comments on them all the time. They are extremely functional, play the part well, and overall tie in with the feel we were going for."
Based on vintage styles, these American-made lights are handcrafted and easy to customize with shade size, finish color, gooseneck arm style, and other options including LED.
"I have always liked barn style lights," Smith says. "The vintage ones are impossible to find so Barn Light Electric offers the next best thing. They look and function great!"