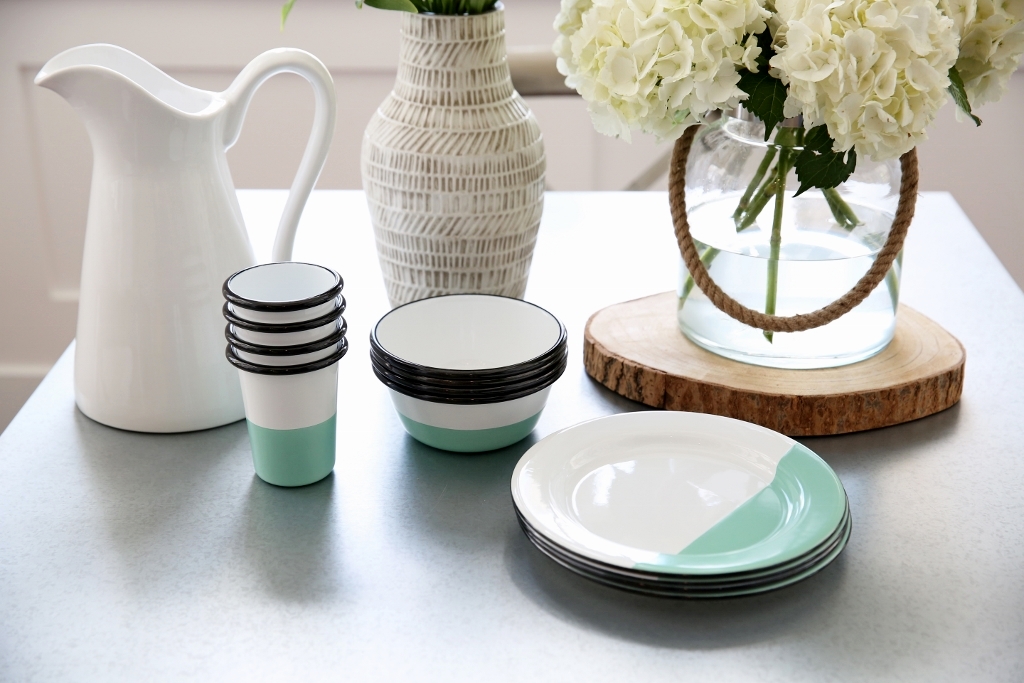 Enamelware Dishes Add Pop of Color to Mornings
If you missed this post last week, it's worth a look. Our friend Erin, who writes The Sunny Side Up blog, chose the Dino Retro Desk Lamp for her son's room and the results are fabulous! Erin created the perfect industrial vibe with a navy-and-gray palette accented by pops of orange on the nightstand. It's a look her young son loves now and will easily grow with over the years.
As Erin browsed the Barn Light Electric website looking at lamps, our 12-Piece Dipped Enamel Breakfast Set also caught her eye.
"Two things attracted me to this set. One was the color. I have a major crush on all things Jadite and I love the white-and-black accents," Erin says. "The second thing is that they're enamel. I love enamel because it is so durable. My dad always had enamel dishes in our family camper when I was growing up. Enamel dishes bring back happy childhood memories for me."
Erin describes in this post how her kids have long outgrown plastic dishes, but that she still avoids glass. Handcrafted from commercial grade steel, enamelware offers a rugged yet stylish alternative.
"We've been using them lately in the morning for breakfast, but they are so stylish, I'm sure I'll use them to entertain also," Erin notes. "I think they will be fun for indoor or outdoor parties."
This breakfast set includes four 9½"dinner plates, four bowls, and four tumblers in a playful dipped design. Nine high-gloss porcelain enamel finish colors are available as a contrast to the white base. Erin chose her favorite color for her finish.
"I've loved Jadite for years!" she says. "It's a color I've always been drawn to and I have a lot of it in my kitchen, so I knew the dishes would look good with all of my existing kitchen décor."
Erin adds that she loves the quality of her new dishes; they're sturdy, but not too heavy. The dinnerware sets are also offered in solid enamel and graniteware patterns.
"I love the fun, vintage style and the color combination," she says. "They're perfect for adults or kids, and they add life and a fun pop of color to our breakfasts each morning!"
Photos courtesy of The Sunny Side Up