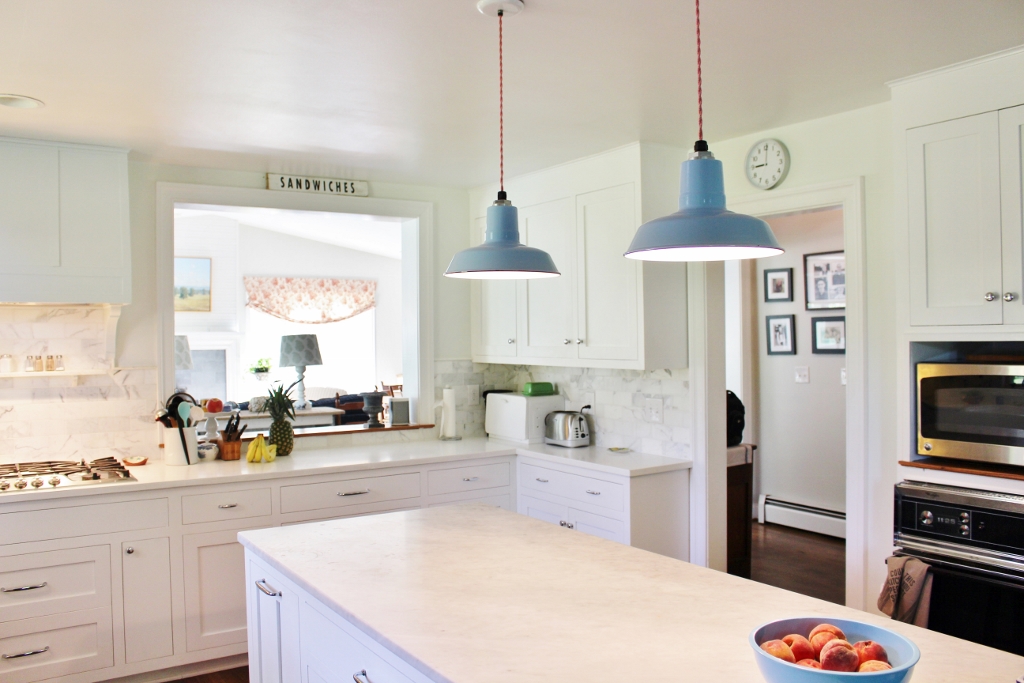 Vintage-Inspired Pendant Lighting Harkens Back to Home's Roots
When Nancy and her husband Charlie moved into their Charlottesville, Virginia, home back in 2013, it was a homecoming of sorts for Charlie.
"This was my husband's grandfather's farmhouse which was built in 1910," Nancy says. "Charlie lived here until he was six years old and remembers having no central heat or indoor plumbing."
Luckily, the outhouse Charlie remembers off the back porch has been replaced with indoor plumbing. The couple has been renovating the home, updating rooms to make them more user friendly while still keeping the bones and farmhouse style of the home intact. The kitchen underwent the biggest transformation.
"We removed a wall to open up the kitchen to the dining room," Nancy notes. "And we added the island, a farmhouse sink, and subway tile to the kitchen." Nancy chose a pale grey tone, almost white, for the walls and searched for months to find vintage pendant lights for the island.
"I really wanted vintage fixtures, but it's hard to find two in good condition that match," she explains. "Plus you never know about the wiring." When Nancy found Barn Light Electric online, she knew she'd found the next best thing — American-made, vintage-inspired lighting with updated finishes, options, and brand new wiring.
She selected two Original™ Warehouse Pendant Lights with 12″ shades to highlight her new island. She customized these hand-spun pendants with a Delphite Blue finish and red-and-white chevron twist cords.
"I picked The Original™ because it looked like an older profile," Nancy explains. "I wanted a pop of color because it's fun to add color to a space when most everything else is neutral." Nancy fell in love with all the cording options available for the pendants.
In addition to standard cording, all of our porcelain enamel pendants have the option for colorful cloth cords. Ten cloth cords are "damp rated" and five are available for dry location installations.
"I like the cord the best. The red cord is fantastic," Nancy says. "You just don't find it in other places and it definitely gives the fixture a more vintage feel."