Featured Customer | Donna from Titusville, FL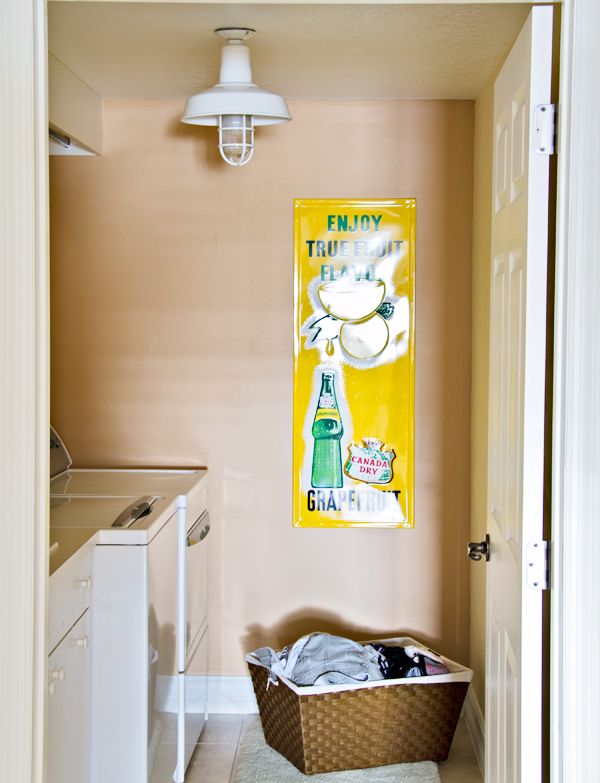 Raise your hand if you like doing laundry! Anyone? Anyone?
No one?
It's not so much the process of putting into the washer and dryer, it's more of the hassle that comes with folding, hanging or worse…ironing! The chore might even get worse if you have to lug it all up and down the stairs into a dark, dungeon-like laundry room too. You might as well try to make it fun to lessen the dread, right?

Today's featured customer, Donna from Titusville, Florida, did exactly that. Adding a vintage metal sign coordinates with the rustic-country feel of the remainder of the condo – you're itching to see the rest aren't you? Stay tuned and bookmark our blog, we've got more country charm that awaits you in the next couple of days.
While Donna's laundry room is just a small nook within the condo, it packs a big punch in regards to functionality. A small cabinet and shelving unit on the back wall makes detergent and bleach easily accessible and out of sight. Stain fighting and pre-soaking are made possible through the use of a rustic warehouse shade above. Perfect for small spaces like this, the Warehouse Flush Mount Pendant Light doesn't overwhelm the space or get in the way as you're working. Opting for a central cast guard and glass unit, the pendant has a bit of a rough and tough, industrial feel to coincide with the vintage sign. You never know, Donna and her teenage daughter may even get a laundry assembly line going with the factory warehouse light above.
The Warehouse Flush Mount Pendant is also one of our most customizable light fixtures, featuring option after option available for your unique design tastes. Nearly 50 finishes combined with a wire guard will give you a distinctive ceiling light that everyone in your home will love!