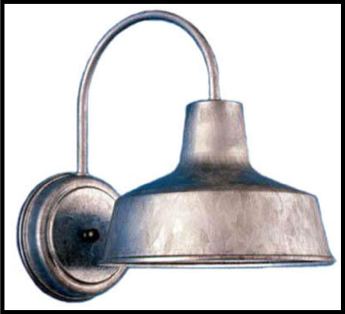 Architectural Brass Fixtures Are Balanced By Barn Wall Sconces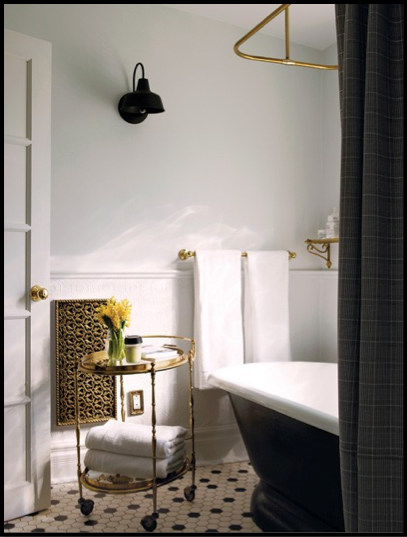 Brass accessories have definitely been making a comeback. You may be seeing them all over the place – architectural brass lighting in coastal homes, vintage hardware at antique sales, or you may have decided to bring out your grandmother's vintage serving tray because it would be the perfect little towel cart. While some trends from the 1980's should never (ever) come back into play, antique furniture and little décor pieces seem to still add a touch of elegant, yet understated class.
Be careful when incorporating brass into your home though, too much of a good thing becomes a tad overwhelming. An overload of brass can eventually make the room at hand look tacky, not chic and sophisticated. Vintage Barn Lighting offers a huge selection of restored brass lighting and hardware pieces, but a simple gooseneck sconce may be what you really need for your home or office.
Take this bathroom for example. A beautiful serving cart is used to house plush towels towels, light reading and the resident's morning cup of coffee. Nearby, a brass towel rack and shelf contain additional towels and toiletries – just like the hotels do. In order to balance out all of the furniture and hardware, the homeowner incorporated plenty of black and whites. Not only does this offset the vintage elegance and bring out the original honeycomb floors, it allows for it all to be changed out should brass disappear back into the depths of our design files.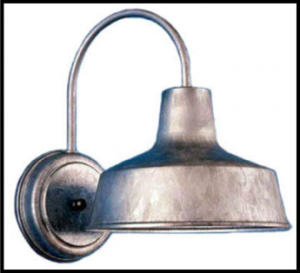 While the easy solution would be to add recessed can lights, a barn wall sconce softly illuminates the room's wall. The mini gooseneck arm attaches the shade to the mounting plate, and also adds a touch of understated grace. Typically considered a farmhouse light, the Austin Sconce is identical to the wall lamp chosen for this bathroom; a good choice, considering how simple and flexible the design is. If you love the Austin Sconce, but still prefer vintage lighting in your home, it is also available in a few brass finishes to suit your tastes.
Top Photo Courtesy of House and Home