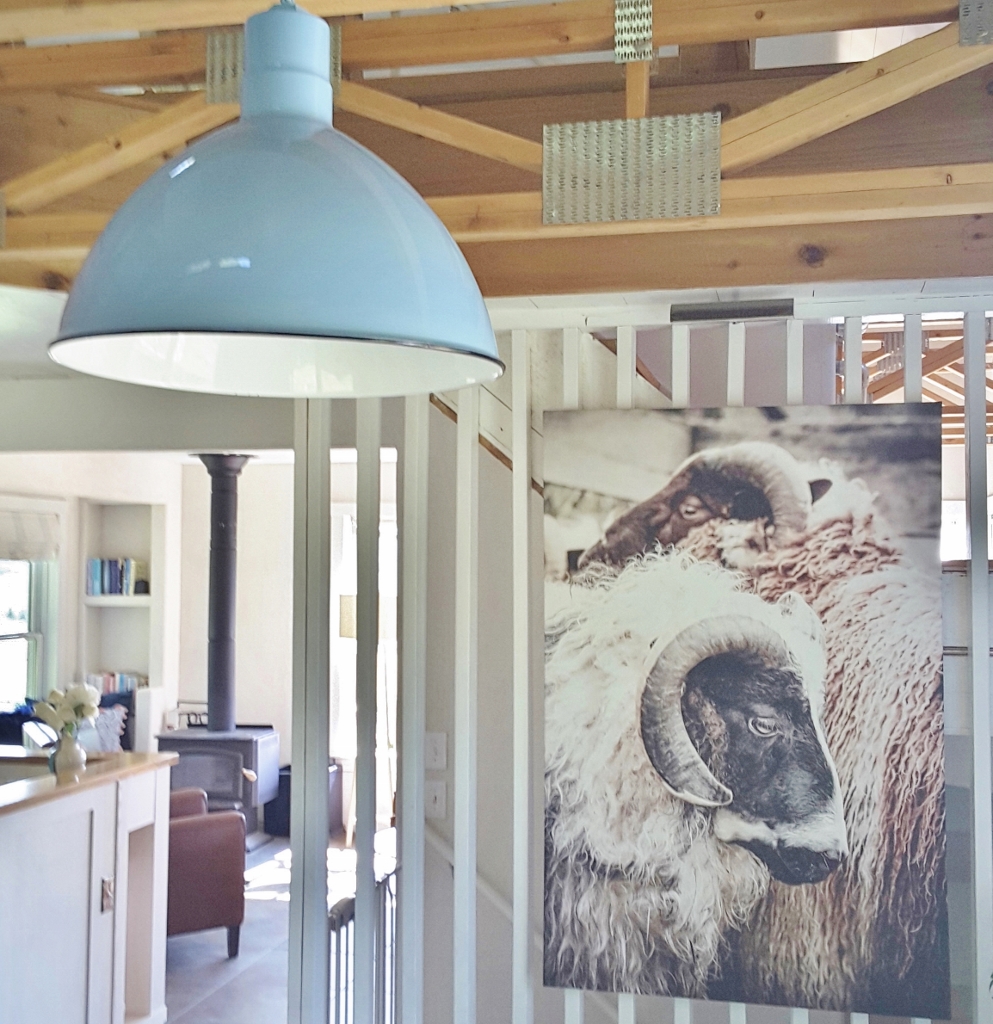 Chain Hung Pendant Light Substantial Yet Sweet
Building a home is not for the faint of heart. From endless searches for inspiration, hiring an architect to create the home of your dreams to lining up a builder to bring the plans to life, the process is chock full of decisions, delays, and dollars.
When Meaghan and her husband decided to build a home on 30 acres outside Stockholm, Wisconsin, they took matters into their own hands.
"We built the house ourselves on weekends beginning in 2005," she says. "In 2011, we built a barn for our two horses and started living in our new home full time." Work continued last summer in the kitchen and dining area where Meaghan installed new kitchen counters and back splash and searched for a new dining table light.
"Our house is pretty eclectic and I didn't have a design in mind," she explains. "But I wanted a simple bowl pendant leaning towards contemporary and probably chrome." To her surprise, the Wilcox Deep Bowl Chain Hung Pendant won her over.
With 12-foot ceilings, she needed a large pendant and her husband wanted a chain option.
"The Wilcox looked substantial and built to last," Meaghan notes. "Our daughter is working towards an MFA in ceramics and has really opened my eyes to the joy of well-crafted functional objects. That's how the Wilcox looked and felt to me."
Meaghan customized her new chain hung pendant with a generous 20″ shade, a Delphite Blue porcelain enamel finish, and matching blue chain.
"I have old enamelware farm pieces that I treasure and here suddenly was a porcelain coated light!" she notes. "I was giddy about how pretty the matching blue chain was. It turned something utilitarian into a feature."
The pendant complements Meaghan's comfortable farmhouse style which includes a wall made up of wood from an old farm, and a large photograph of sheep by a local photographer. The Delphite Blue finish of the light matches the Swedish blue pottery Meaghan has on display.
"The size holds its own against the strong features in the room and yet the light itself in endearing, sweet, and old fashioned," she says. "The porcelain has a deep glow as opposed to a metallic shine. We have it on a dimmer and the white interior can glow like candlelight or really light the table."
Meaghan's new pendant, like all of our porcelain enamel lights, is handcrafted from commercial grade steel and coated with multiple layers of porcelain enamel glass.
"I think the light looks good precisely because our style is eclectic. It is very versatile and its simplicity suits many styles including contemporary and farmhouse," she says. "It doesn't look like a trend or a fad. It's just a great light."
Photos courtesy of the homeowner