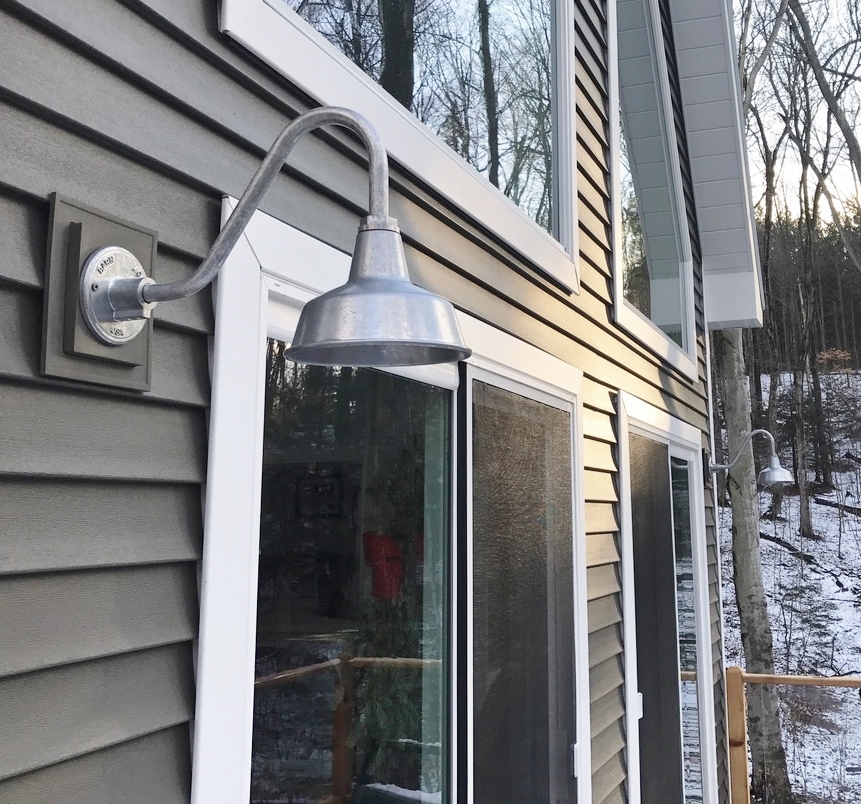 Authentic, American-Made Barn Lights for Woodland Cottage
When Edy and her husband built their new home in the small village of Lake Ann, Michigan, they wanted the structure to reflect the beauty of the surrounding countryside.
"We built our home on seven acres just west of Traverse City on a secluded piece of land overlooking a small pond," Edy says. "We have deer, coyote, owl, and fox in the area, and we enjoy the outdoors very much." As she researched lighting online, Edy looked for American-made fixtures with an authentic barn light look to add a raw cottage feel to their home.
"Barn Light Electric met all those criteria and we believe fits well in our home design," she notes. "I incorporated barn lights inside and out for a seamless flow and so that everything would tie in well."
Today, we take a look at the exterior of Edy's new home. Although the floor plan was designed to be built as a log home, Edy had a local draftsman draw up a stick built design with the plan. The detached garage complements the home in style and color.
Edy chose two Original™ Warehouse Gooseneck Lights to highlight the garage doors. She customized these hand-spun gooseneck lights with 16″ shades, a Galvanized finish, and G22 gooseneck arms.
Around the corner, a side door with a covered porch allows easy access to and from the garage. A matching Original™ Warehouse Pendant Light hangs here to brighten the doorway. This barn pendant features a 12″ shade and matching Galvanized finish.
A short walk across the yard and we see another Galvanized barn light beckoning from the porch. This Original™ Warehouse Flush Mount Pendant Light boasts a slightly larger 14″ shade and Galvanized finish.
"We chose the Galvanized light theme for all of the outside lights because we wanted them to pop against the dark green/gray siding," Edy explains. "And they do so nicely which gave us the rustic cottage feel we wanted. We are in the woods and using any other style of lights just didn't make sense."
Another matching Galvanized Flush Mount Light graces the front porch and provides a nice contrast to the black front door and furniture.
A walk along the wrap-around porch to the back of the house leads to a large deck jutting out into the woods. This side of the home features huge windows that bring natural light into the space and provide a connection to the outdoors that Edy and her husband love.
Four Avalon Gooseneck Lights highlight this deck and flank the sliding glass doors. These compact barn lights feature 8″ shades and G26 gooseneck arms.
"Our electrician was impressed with the quality of these barn lights and the ease of installation," Edy notes. "We receive many compliments on our barn lights."
Join us on Wednesday as we continue our tour of Edy's new home. We'll check out the selections she made for the interior including a splash of Delphite Blue in her new kitchen!
Photos courtesy of the homeowner