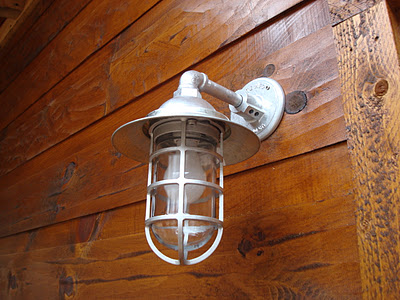 Featured Customer | Atomic Wall Sconces and a Cast Guard Pendant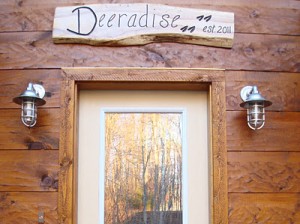 What would you call a rustic log cabin nestled in the deep woods of eastern Tennessee that is frequented by all sorts of native creatures including snakes, bear, turkey, and deer? Deeradise of course! That was the name chosen by this family when they first purchased their 4-acre lot in early 2011 and started dreaming of building. Finishing touches were completed just in time for the family to ring in the new year in their new home.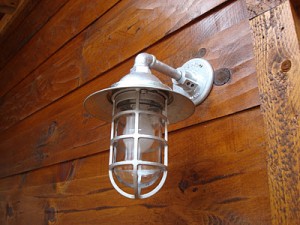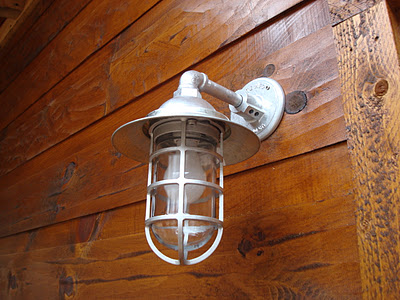 In addition to lots of wood throughout, sliding barn-style doors on the closets, and vintage jelly jar chandeliers, the owners of Deeradise chose rustic Barn Light Electric Atomic Cast Guard CGU-SS Sconces to welcome visitors to their front door. Placed on either side of the door, these sconces throw plenty of light onto the doorstep and beyond.
These fixtures are one of our top-selling lights because they are adaptable to so many different rooms and styles. The CGU sconce is rated for wet locations but is perfectly suitable for interior use as well. For a compatible look, check out the Barn Light Wall Mount Double CGU Sconce which adds a perfect touch of light over a bathroom sink. Or try the Atomic Topless Wire Guard WGU Sconce for a sleeker, simpler look. This piece works well in utility rooms or work spaces.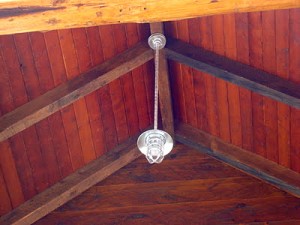 The front of the Deeradise cabin featues a soaring roofline on the entryway and tucked up high in the rafters hangs a Barn Light Atomic Cast Guard SS Pendant. Not only does it add charm to the front porch and match the sconces perfectly, but its light shines down as a welcoming beacon to all. This pendant can be customized to fit your space with a variety of finish colors and styles and can be hung with either a stem mount or a cord mount. Glass colors can even be customized to fit your particular look.
Photos Courtesy of Deeradise Blog