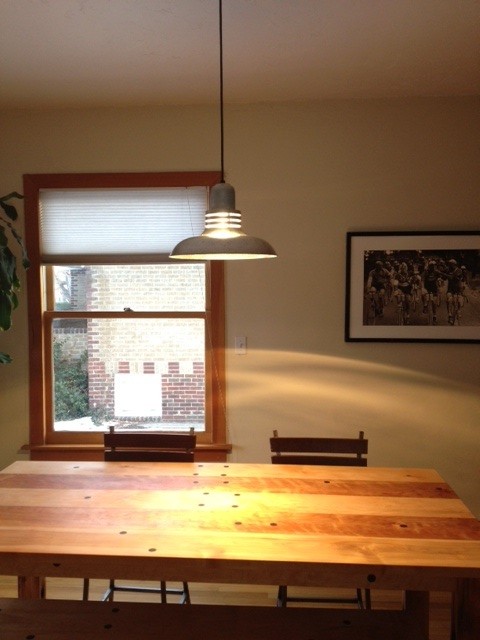 Featured Customer | Angie from Denver, CO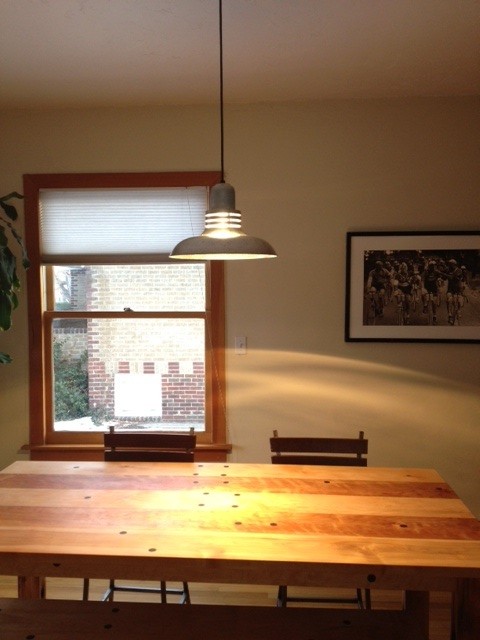 Denver is a city known for its sports teams, snow-covered slopes, and booming economy. You may think that all homes are fashioned in the manner of ski lodges, but that's not always the case. While today's featured customer, Angie, draws from a few rustic influences, her dining room is ultra stylish and trendy.
Neutral paint along with a farmhouse wood dining table gives Angie the chances to switch out decor every once in awhile. We adore seeing this style in the homes of our featured customers – there's no feeling like finding a new piece of art or accessory and knowing it can easily be incorporated into your space. Currently, a cycling print graces the walls, but that's not the only thing that stands out.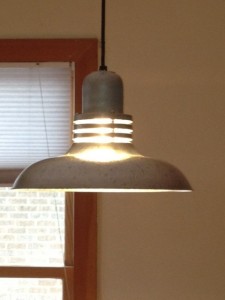 Angie also hung the Barn Light Ivanhoe® Pendant over her dining room table. The Ivanhoe® Pendant adds an industrial edge to the classic rustic atmosphere, but also blends with the neutrality if necessary. Not to be confused with our line of Ivanhoe® Porcelain Pendants, the Ivanhoe® Barn Pendant is still built with quality American materials, and focuses more on a futuristic look. While she selected a galvanized metal pendant, the Ivanhoe Pendant can be customized in an array of other finishes ranging from neutral all the way to ultra bold.
The open slats that surround the cap allow for light to freely pulse through the room. Angie chose the clear jelly jar glass, but you could switch it up for your specific wants and needs – frosted glass for a softer glow, or amber crackle for an antiquated look. While a little bit of light escapes through the top portion, the majority of the room is bathed in downward light coming from the shallow dome. There's no doubt that Angie's industrial modern pendant earned her many "oohs" and "ahhs" over the holidays, and it will serve that same purpose for years to come.