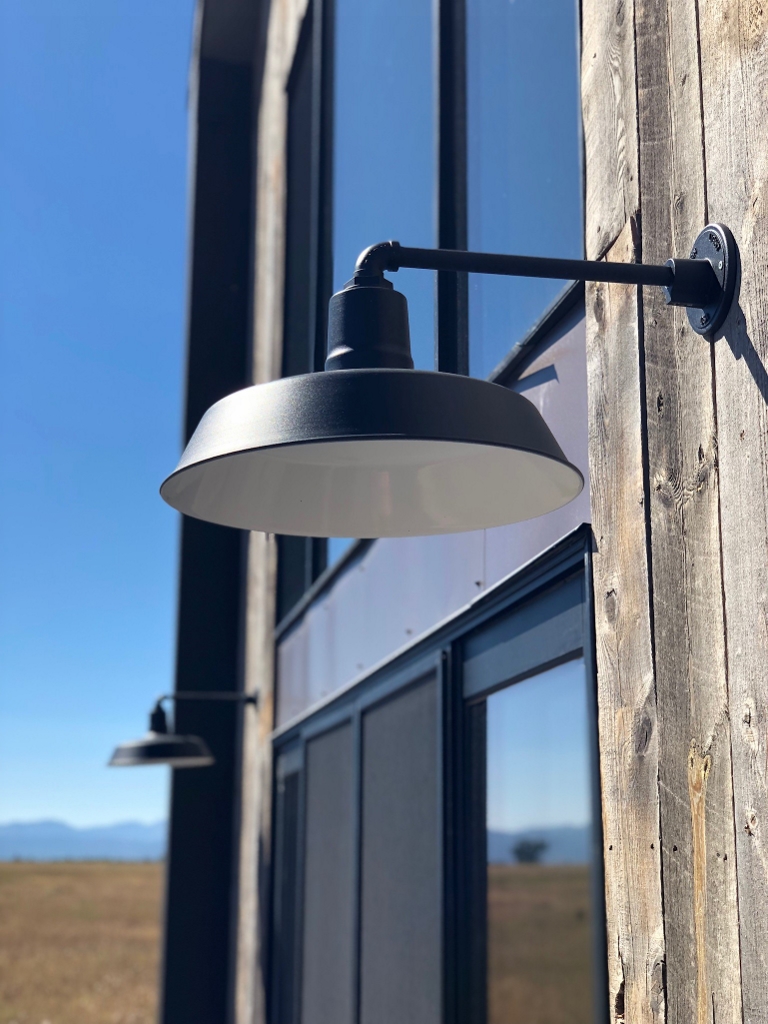 American-Made Wall Lighting As Grand as the Tetons
When Gillian and her husband visited the Teton Valley of southeastern Idaho five years ago, they fell in love with the grandeur of the area. Although they had never done so much as a home improvement project, the couple purchased a two-and-a-half acre lot and began planning to build their forever home.
"We broke ground in June 2017 and completed our guest house this past spring," Gillian says. "We want to be in the Valley as much as we can for vacations until we make it our permanent home in five years."
For the guest house, Gillian envisioned a modern barn. Her architect brought her vision to life with dark metal siding and reclaimed wood to give a nod to both old and new. The clean lines and minimal materials lend a modern feel without losing the traditional barn shape.
"For lighting, cohesion was my number one criteria," Gillian notes. "We were looking for what triggered the 'modern barn, masculine, minimalist' feel. With such clean designs, Barn Light Electric had what I was looking for."
For the exterior, Gillian chose the classic Original™ Warehouse Gooseneck Light to serve as a focal point for the front of the structure. These handcrafted goosenecks are customized with 16″ shades, a Textured black finish, and G1 straight gooseneck arms.
"We disagreed between the 14″ and 18″ shade size so we went with the 'Goldilocks' method — 16″ is just right!" Gillian says. "The barn feel of the lights is a perfect complement to the reclaimed barn wood as the front accent siding."
For the interior lighting, Gillian searched for fixtures that would make a statement in a living room with 26-foot ceilings. The Dino Wall Sconce caught her eye with its clean design that provided the depth and dimension she needed in the space.
These American-made wall sconces are customized with 12″ shades and the same Textured Black finish as the exterior goosenecks.
Just off the kitchen, an Arlington Wall Sconce highlights the window seat. This compact wall light has a similar style shade as the Drake but in a smaller 8″ size.
"We wanted to match the metal accents in the home and get the scale of the fixture we needed," Gillian explains. "The light is soft and perfect for a cozy reading spot!" With the couple's first stage of building complete, they look forward to spending time in their new guest house.
"We wanted a modern barn and how can you have that without barn lights?" Gillian says. "It really seals the intention of the structure and feel of the space. They allowed my vision to become a reality."