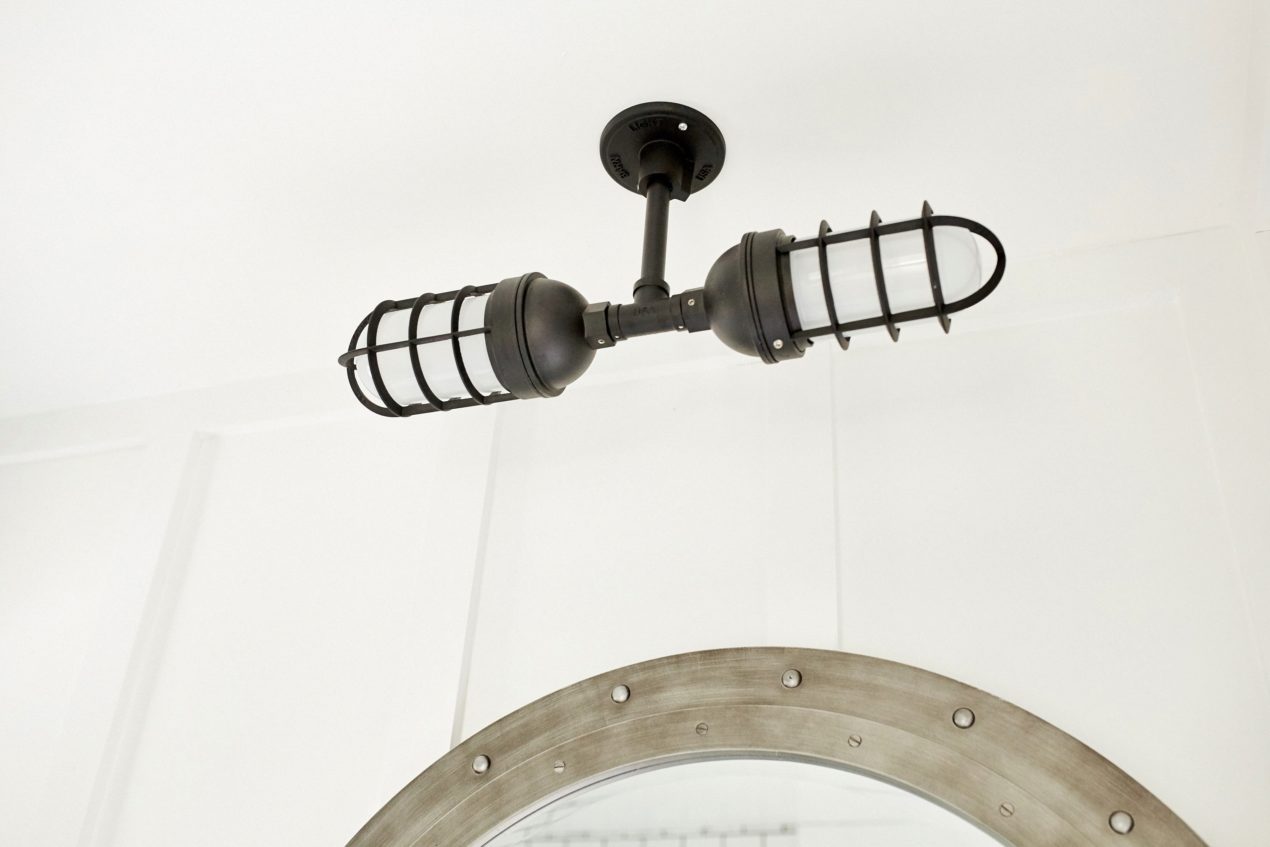 Functional, Stylish Nautical Wall Sconce Wows Guests
When Marjorie and her husband Michael began a guest bathroom renovation, they decided to buck the neighborhood trends and embrace their love of all things nautical.
"We live on the south shore of Long Island, about five miles from the beach. Every single house looks exactly the same with vinyl siding, the same fencing, and the same windows," Marjorie says. "Everything about our home renovation goes against the grain. We are definitely 'that house' on the block!" Their home features many farmhouse elements such as white board-and-batten siding but with black details and nautical accents throughout.
Since both Marjorie and Michael grew up on the beach, they wanted to add nautical style in their renovation plans. While exploring Houzz, one of her favorite apps, she discovered Barn Light Electric and fell in love with the Industrial Loft Double Pendant.
"We wanted this bathroom to have a wow factor for guests," she explains. "Buying American-made products was important to us. The craftsmanship, black cast aluminum, and industrial look of this sconce made it the winning choice." The couple customized this handcrafted wall sconce with a Textured Black finish, standard cast guards, and frosted glass.
"I love this fixture, and it fits our industrial/nautical renovation theme," Marjorie notes. "I like to have a lot of light everywhere. It's big enough to create the light we want, but with the frosted glass, it's way more gentle to the eyes. Who wants to be blinded looking in the mirror?"
The Textured Black finish complements the black-and-white tile in the space and lends the distinctive rustic feel the couple envisioned.
"We love everything about this bathroom," Marjorie says. "Our choice of tile and white board-and-batten walls make that black light fixture really stand out. Everyone always comments about how different it is and how great it looks. Lighting was important to us, and one search led to another which linked us to Barn Light Electric which didn't disappoint!"
Photos courtesy of @petitesol and @millimeterphoto