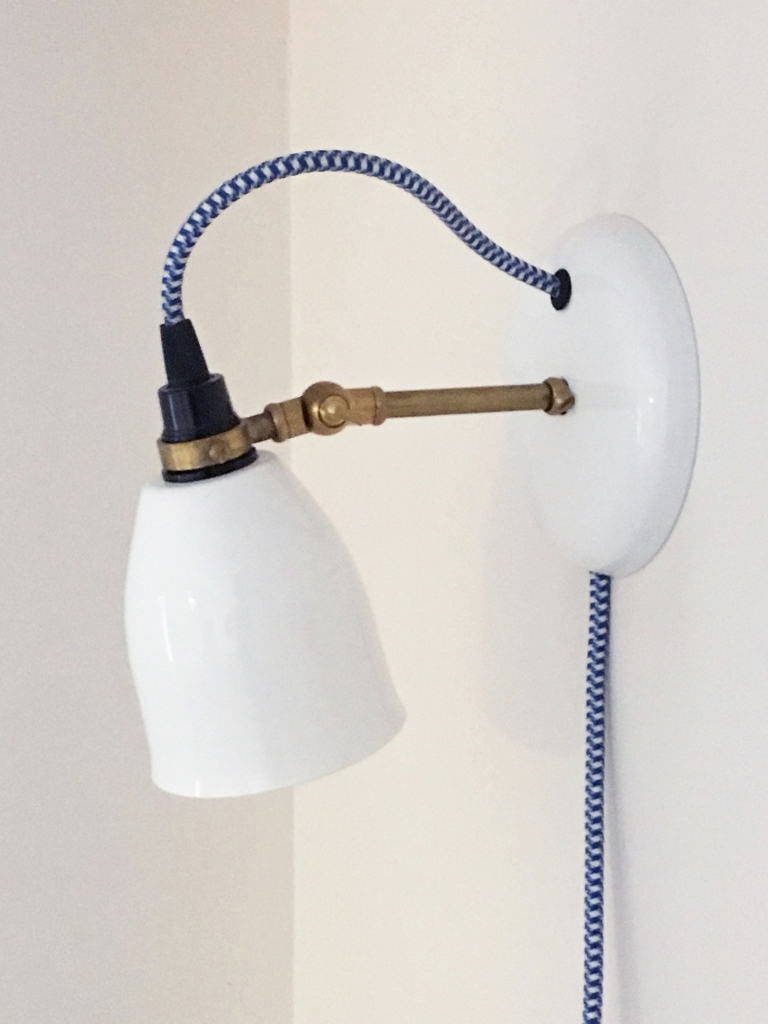 Handcrafted Wall Sconce Lights Add Nautical Flair
When Ann-Marie decided to renovate the master bathroom in her Kennebunkport, Maine, home, she faced more than just a décor update.
"The bathroom was so dated, but there was a huge bathtub that took over the entire room," she says. "Filling that bathtub on the second floor in a building built in 1900 was a pretty scary thought!"
The home was built on piers over the water and is an historic fixture in the town. When Ann-Marie started the renovation project, she wanted to stay true to the nautical roots of the home. The master bathroom had a ceiling light and fan but she wanted the vanity light to be a bit more stylish.
Ann-Marie chose the Austin Wall Sconce to highlight the sink. She customized this handcrafted wall sconce with a 10″ shade and Barn Red finish.
"The Austin isn't too big or bulky and I like the clean lines," she explains. "In a waterfront home, it's easy to get sucked into decorating with blue and white. I try to add a punch of color here and there, and I just loved the idea of red in this space. It really made everything come together.
In the nearby bunk room, Ann-Marie envisioned a ship. While they have older guests who stay in the home, she also wanted to have fun with the space.
"We built the loft which is more comfortable and sturdy than bunk beds," she notes. "Then we looked for unique items to repurpose like the antique bed and the orchard ladder that is used to access the loft."
Ann-Marie wanted each bed to have a personal light, so she selected the Lovell Plug-In Wall Sconce to install by each bed. She customized these American-made fixtures with a White finish, brass arm, and blue-and-white cloth cord.
"These lights are so much fun," she says. "The brass arm tied right in with that feeling of a ship, and the blue-and-white cord is a really unique feature. The lights have a nice, vintage nautical feel that we love."
Ann-Marie first found Barn Light Electric online when she was shopping for lights for her home in Massachusetts.
"You have grown with so many wonderful options now," she says, "so we keep coming back and always find something that will fit our needs."
Photos courtesy of www.5wharflane.com