Farmhouse Mudroom | Stylish Flush Mount Lights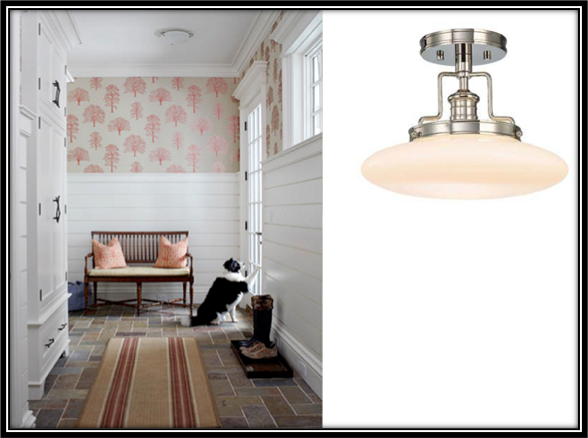 If space allows, any home can benefit by having a mudroom – especially if your little ones love running around in the dirt, making mud pies or splashing through puddles. Functioning as a second entry way to your home or sometimes the laundry room, it should be easy to clean but still remain beautiful – especially if it near or is the primary entrance to your home. Industrial farmhouses definitely aren't an exception to the suggestion of a mudroom – as a matter of fact, true, antique farmhouses have mudrooms that are privy to some of the homes best memories and secrets.
Both of the mudrooms shown today have facets of farmhouse style in them. The first has charming white wainscoting along with blush pink tree wallpaper above. The paneled door along with the side window let in plenty of natural light, but what happens at night? They flip on the ceiling light above. Flush mount lights, like the Edgerton Semi-Flush Ceiling Light have a vintage air about them. The Edgerton has tiny arms spindling from the short mount, along with an almost saucer-like globe to fill any room with a soft glow. Plus, flush mount lamps remain perfect for any room with a low ceiling. (Unfortunately, the cute puppy in the window doesn't come standard with our light.)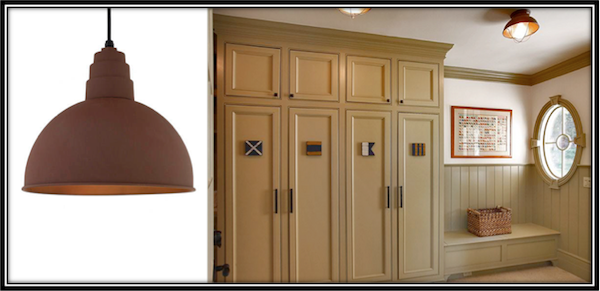 On the other hand, the room to the right falls on the other end of the farmhouse spectrum. With a coastal or cabin-like vibe, rustic ceiling lighting is a must. Two flush mount barn pendants illuminate the room above the built in cabinetry and storage space for the kids. For the same look, choose our Hudson Pendant. Found in our Barn Pendants section, the Hudson is available not only as a flush mount light, but also with a cord hung and stem mount option if you have higher ceilings.
In Setting Photos Courtesy of Home Bunch