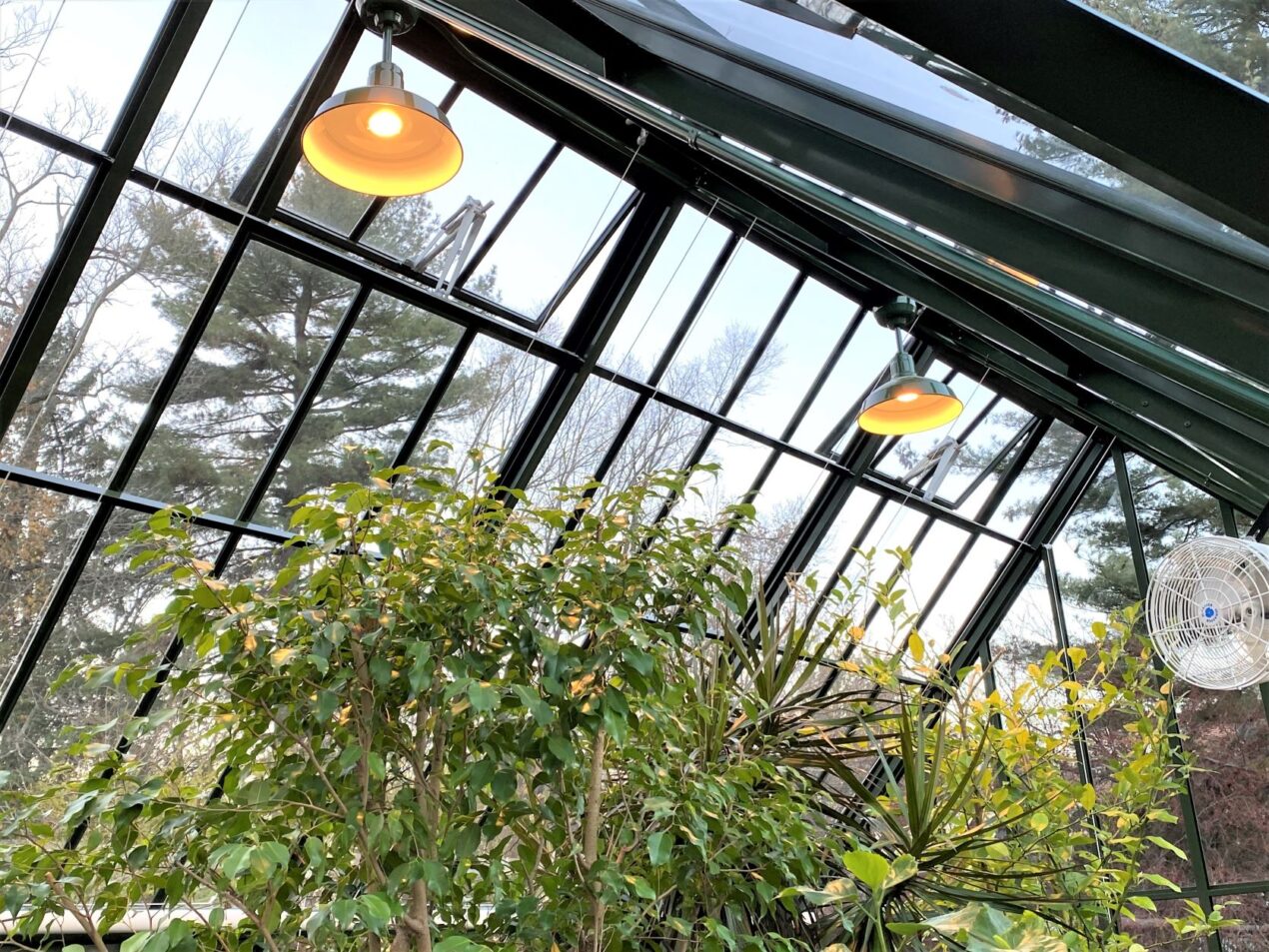 Energy-Efficient LED Pendant Lighting Adorns New Greenhouse
While many of us spent the winter snuggled up in front of a fireplace, a Barn Light Electric customer in the Midwest created a warm and habitable space for her beloved tropical plants to spend the long, cold months. Cynthia hired a contractor to build a new greenhouse so her plants could thrive no matter how low the outside temps dip.
"It would have been cheaper to just buy new plants, but I have 12-foot ficus trees that are doing really well," Cynthia says. "And I have orchids and mature hibiscus that continually bloom."
The greenhouse is a stunning stand-alone structure with windows that pop open during the temperate seasons. Cynthia wanted LED lighting for the building, and when her contractor recommended Barn Light, she popped over to the website to investigate.
"I liked what I saw with Barn Light Electric," she notes. "I loved the selection of colors and styles." Cynthia chose four Dino LED Stem Mount Pendants to provide lighting to the space. She customized the fixtures with 14″ shades handspun from solid steel, a porcelain enamel Vintage Green finish, and six-inch stems.
Featuring integrated LED modules that offer approximately 50,000 hours of service, these American-made pendants are also customized with a flat lens. Cynthia chose a 2700K warm white color temp for a soft glow.
"I liked the look of the Dino and the dimensions were the best fit for the length, width, and height of the greenhouse," Cynthia explains. "The dimensions we chose show off the lights best without hanging down too low. And the Vintage Green finish matches the finish of the greenhouse closely."
The LED lights bring a touch of farmhouse style to the space while offering energy-efficient, environmentally friendly illumination. The Dino LED Stem Mount comes in two shade sizes and more than three dozen finish colors including natural copper and brass.
"My old greenhouse is the same color of green. I love the detail across the top," Cynthia says, "The lights are attractive and make a statement by themselves while providing the functionality I need."
Photos courtesy of the homeowner