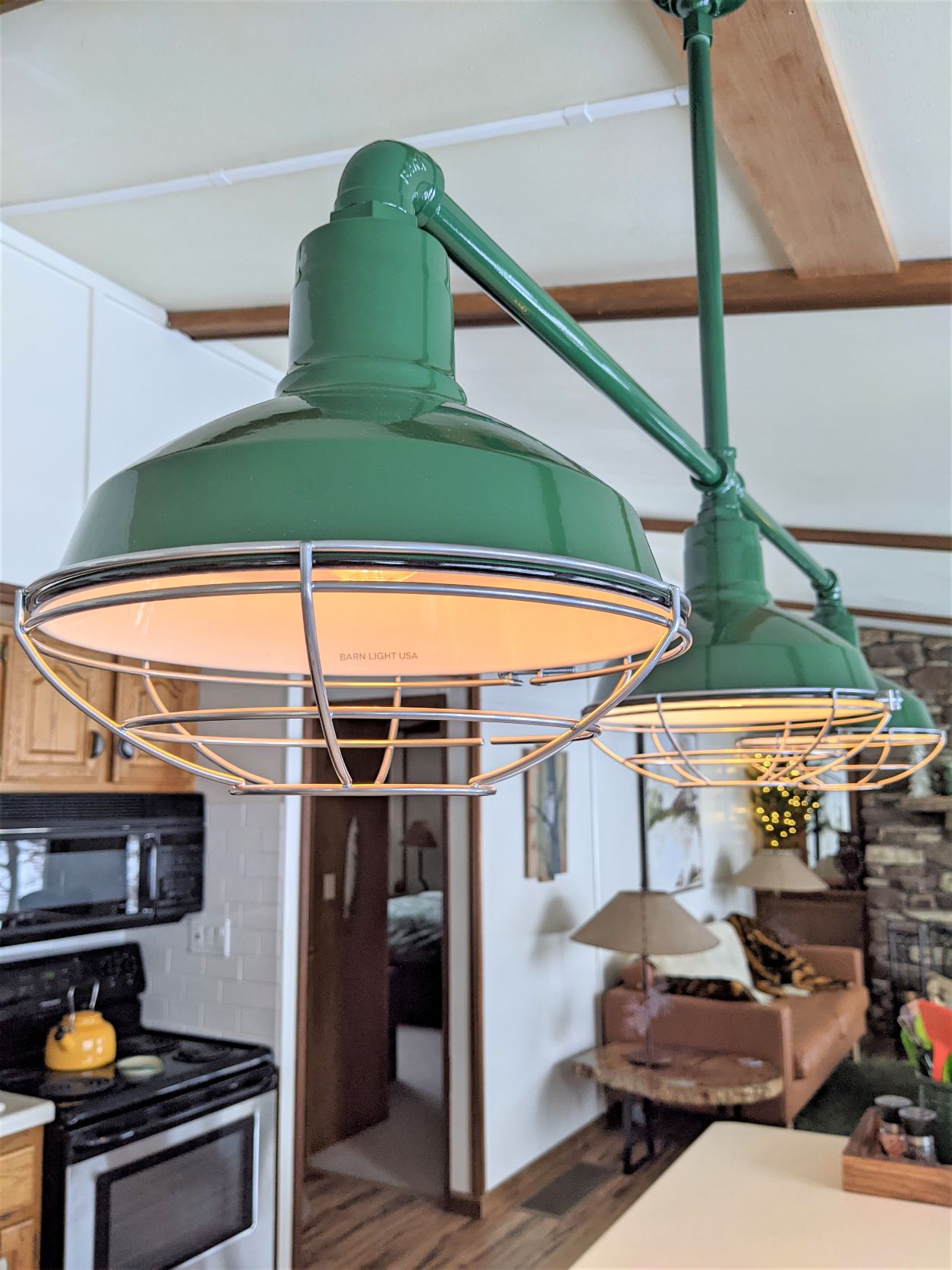 Multi-Light Pendant Adds Color, Character to Kitchen Remodel
When Heidi purchased a 1970s-era lakefront home in Tomahawk, Wisconsin, it needed updates to make it a comfortable and inviting rental home. One of her first targets was to replace the bare bulb pendant lights over the island with something more substantial and functional.
Here's the before photo…
"The island is huge, 108″ long," Heidi says. "My first and foremost thought was to provide intimate and functional lighting to that essential workspace. The tricky part is that the ceiling is a very thin material thus we needed additional reinforcement with a cross board."
The result is a completely new look for the kitchen thanks to a Dino 3-Light Stem Mount Pendant. Heidi customized this handcrafted, multi-light pendant with 12″ shades, a porcelain enamel Vintage Green finish, and Galvanized wire cages.
"I knew the lighting needed to ground the island and provide a space that feels intimate," she explains. "American made is always a first choice for me. And since this home is located with a mid-tree line view, the green on the inside will tie the interior and exterior together."
Heidi notes that adding the Galvanized wire cage was her husband's idea. They both like the texture and unique feel the cages bring to the home they have dubbed The Muskie Barn.
As the couple selected the customizing options for this sturdy stem mount light, Heidi struggled to figure out the best stem length. She called the Barn Light Customer Care team for help in determining how best to make the light fit in the space.
"They were amazing!" Heidi notes. "I stood on the countertop and had your team on speaker. We talked through where we wanted it to be with regard to the island. When we decided that the standard size pieces wouldn't work, we went with a custom 20″ stem that turned out perfectly."
The Dino 3-Light Stem Mount Pendant is easy to customize with three RLM-inspired shades available in more than 40 finish colors including porcelain enamel, powder coat, and natural metals. Other options include cast guard and glass, a wire cage, or an acrylic diffuser.
"I'm always attracted to texture and color in my houses, and I wanted to offer something unique for my guests," Heidi says. "The space is coming together exactly how I imagined it!"
Photos courtesy of The Muskie Barn and Crystal Tree Cottage