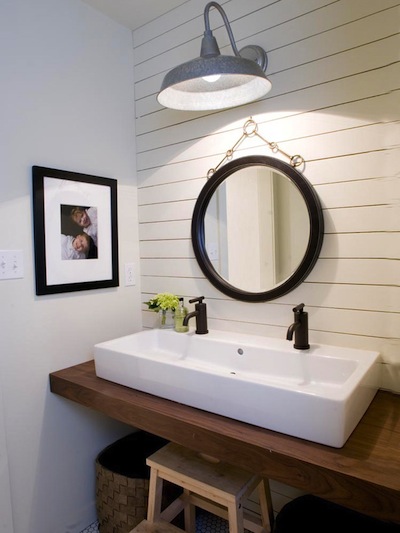 Discount Barn Lighting Brightens Up Any Room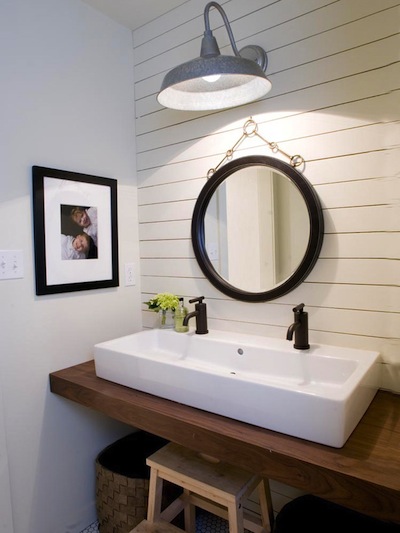 Next to kitchen renovations, bathrooms are next on the to-do list for the majority of homeowners. Most are looking for something that is aesthetically pleasing for guests, but also for something that could prove functional for their day-to-day lives. This presents many challenges to the homeowners, as the costs can eventually add up – leaving the bathroom beautiful, but potentially putting wallets through a great monetary depression!
No need to worry, because we have a few cost-effective solutions for you. Before you head out to the store, shop around your house. That old mirror sitting in the garage could be the perfect vanity mirror with a fresh coat of paint on the framework. Storage is also another tough solution. Take a cue from the bathroom shown above and find large baskets to put under the counters. These can store anything ranging from towels, to toilet paper, to the hairdryer.
Another potential bank breaker is lighting. In a bright world full of options, one must be aware of the fixture's overall quality. This can occasionally lead to paying a higher price for something sturdy, but as the old saying goes, "You get what you pay for."
Fortunately, Barn Light Electric has our own solution – our Discount Barn Lighting. This is a section devoted to top quality, yet affordable lighting. Not too long ago, we featured an 1850s renovated farmhouse that used our gooseneck barn lights as vanity lighting, just like the bathroom shown today. Galvanized warehouse shades like these are available in three sizes in our discount section, and although at a lesser price, they remain American made! While our discount section means you'll have slightly fewer finish options, you'll still be able to customize yours with various gooseneck arm lengths and wire guard options.
If you're running short on time, our discount barn lights only require a short manufacturing period – right around five days! Sure to bring that vintage and rustic charm to your home, these warehouse shades are also available as a discount pendant should you need to hang from the ceiling.
Photo Courtesy of HGTV