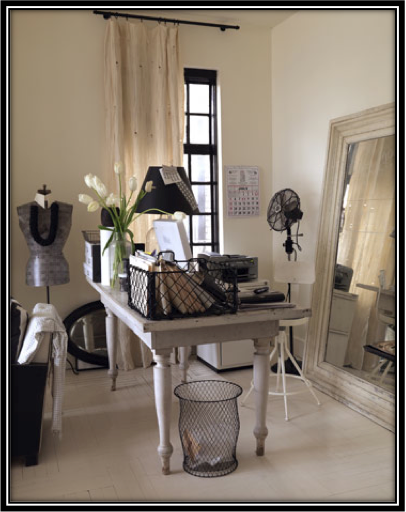 Detailed Floor Fan That Complements Home Office Design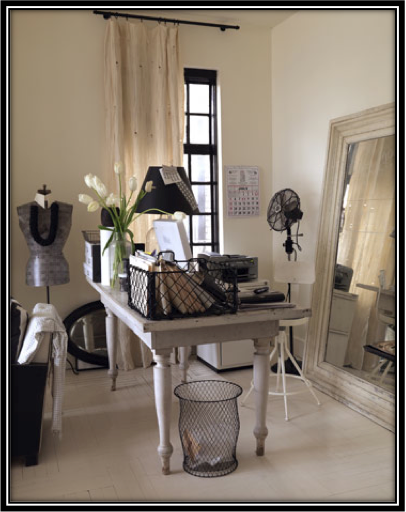 Do you have a home office that you just can't seem to get right? We understand your pain, especially if you like a mix of design styles. Take this home office for example – the color palette hints at a traditional room, but the desk definitely has rustic farmhouse influences. Throw in a touch of industry with the stool and pedestal floor fan and what do you get? An industrial farmhouse home office!
There's no telling what sort of building this is in, whether a posh penthouse or sprawling ranch, we're pretty sure you could spend all day or night working here. A featured customer of ours, Makr Carry Goods, even has a stool similar to the white one in this office. Draw back the creamy white canvas curtains to enjoy the view, or close them when the sun is too bright. With that bright and shiny sun comes heat, so that's where our wire cage fan is sure to get more than enough use.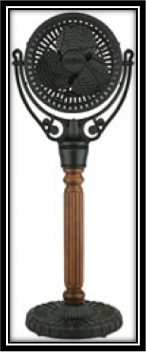 If you want to keep cool on hot summer days, but still have something ultra stylish, the Old Havana Fan may be the answer to your design prayers. Breaking away from dollar store plastic table fans, the Old Havana Fan has so many intricate details that the attention to detail is obvious. There's no need to sacrifice style for your personal comfort, especially since the tacky world of ceiling, floor and wall fans has evolved. Did you think that the Old Havana was only available on a column base? No way – if your floor space is limited, the wall mount, ceiling mount or desk top option is probably your best bet when it comes to saving space. In traditional finishes like antique copper and pewter, the Old Havana Fan is a timeless piece that can be moved from room to room as needed.
Top Photo Courtesy of House Beautiful