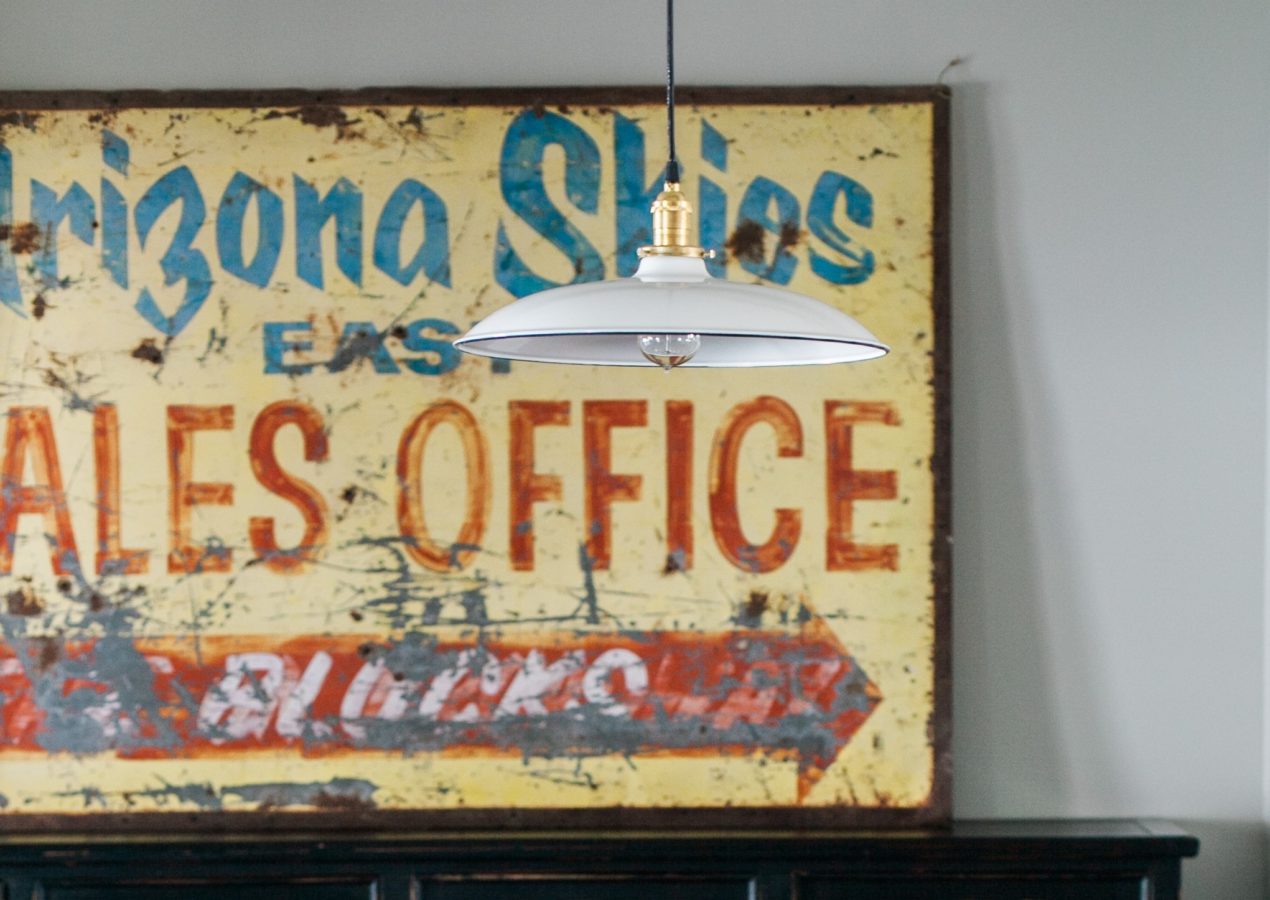 Learn How To Mix and Match Styles From the Pros
We love people who are as passionate about their work as we are about hand crafting our American-made lighting. And no one is more passionate about post war-era ranch homes than Austin King of Rafterhouse. Having just wrapped an HGTV pilot episode, Austin has been incredibly busy of late, but he agreed to take over the blogger's chair to talk about mixing vintage and modern styles — a technique he loves to use to create visual interest with a touch of history.
Austin: There's an element to vintage items that can't be beat — a distinct patina, naturally crackled paint, or the effects of years of wear and tear. It could be the neglect of an item that gives it character or, on the flip side, the love and appreciation of years of heartfelt use.
Whatever it is, old or vintage items have a specific allure that is hard to put into words and certainly hard to replicate. It drives us nuts. And also drives us all over the country overspending on just the right knick knack with just the right wear and tear.
We've always enjoyed incorporating old finds into our new homes. There's a beautiful harmony between the crisp, clean nature of an undisturbed object fresh out of the box — like this vintage-inspired schoolhouse pendant — paired with the rustic patina of an aged vintage find like this door.
How far to push this pairing is certainly up to the homeowner. At Rafterhouse, we strive to balance the old and new which, for now, we define as a "handful" of vintage objects per home.
Old doors are one of our favorite vintage finds. These are some of the first vintage objects we incorporated into our homes when we began converting them into pantry doors.
For those of you who live in older areas of the country, a vintage door might not get you off the couch simply because you already have 16 of them in your house. But out here on the left coast, we spring off the couch with glee at the slightest opportunity to drive across town through thick rush hour traffic to nail down a Craigslist score of one old door.
Even better is when the door also comes with a story – this door came off the first bank in Prescott or this was the front door from Gus' Garden. Awesome stories make everything better, right!?
The doors we find typically need a hug. And new glass. And new trim and hardware. And a new coat of paint to cover up the high probability of old, chippy, lead-based paint. Don't eat the chippy paint, kids.
All of this TLC constitutes giving the door one big old hug. But once it's been hugged, it's ready for another 50 years of love and appreciation. Slap a pantry decal on that amazing vintage door and it's ready to be paired with the crisp, clean lines of a modernized kitchen with white shaker style cabinetry, porcelain enamel pendant lights, elegant carrara marble countertops, and a farmhouse sink large enough to wash twin babies.
Ok, you get the point. I've got to get back to Craigslist now.
Austin King is the owner of Rafterhouse — a company dedicated to the building and renovating of homes that stay true to their historical roots and to the character and integrity of the neighborhoods where they are located.
Photos courtesy of Rafterhouse and Ace and Whim