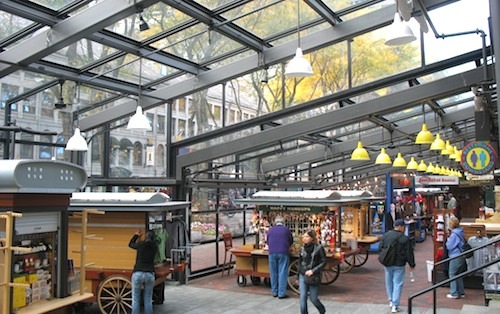 Deep Bowl Porcelain Pendants Add History to Famous Boston Market
In one of the oldest parts of Boston, the Faneuil Hall Marketplace stands as a testament to the merchants and shoppers who have gathered here for almost four hundred years. One of Boston's favorite attractions for locals and tourists alike, the Marketplace is an eclectic mix of both independent shops and upscale chains, restaurants, and entertainment venues. In this photo, rows of bright, modern barn lights hang from the atrium ceiling in the South Market Building, one of four historic buildings that make up the Marketplace.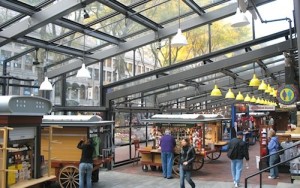 Although lighting during daytime hours isn't a problem thanks to all that glass, these deep bowl pendants provide plenty of illumination on the push carts at night and on dreary New England winter days. Their bright porcelain finishes of yellow and white are not only very durable in this commercial setting, they also add to the historic charm of the building.
To create an authentic vintage look for your own space, check out Barn Light Electric's complete line of porcelain barn lights. Back in the 1930s and 40s, this style of lighting was very popular and was seen everywhere from production lines to service stations and of course on barns. Porcelain fixtures were American made using the finest materials available creating one of the most durable, long lasting fixtures on the market. Although porcelain manufacturing ceased in the 1960s, Barn Light Electric has brought this style of production back and is the exclusive US manufacturer of baked-on porcelain enamel lighting. Unlike other painted finishes, porcelain can be cleaned easily with mild soap and water, and the original luster will remain after years of use.
For outdoor or commercial applications choose our Benjamin® Stem Mount Lighting while the Ivanhoe® Cord Hung Pendants are perfect for indoor use. The Goodrich® Gooseneck Lights represent the traditional style of barn lighting from the first half of the 20th century and are available today for your home or commercial setting.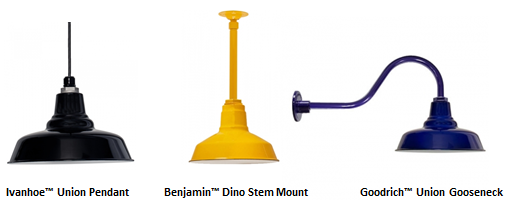 Top Photo Courtesy of BostonDiscoveryGuide.com