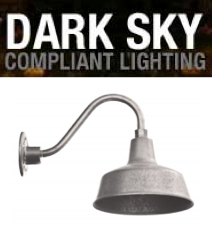 Dark Sky Compliant Gooseneck Lights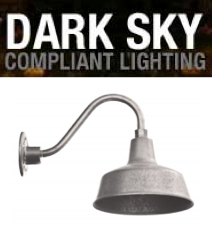 To combat light pollution, a growing number of cities and states across the country are adopting Dark Sky Compliance laws. To ensure your exterior lights meet the new standards, Barn Light Electric offers a wide variety of gooseneck lights that are classified as Dark Sky Compliant Lighting.
Whether you're a business owner in need of new sign lighting or a homeowner looking for a porch lighting, you'll find the right size and style from the extensive selection at barnlightelectric.com. If you need to light a large area outdoors, consider the Rodeo Warehouse Shade, an ideal fixture to hang above large, heavily trafficked walkways, work shops or commercial delivery and loading zones. Other large gooseneck lights that are Dark Sky Compliant include the Brahma Warehouse Shade, one of the largest gooseneck lighting fixtures available, with shade sizes available in 24″ or 27″. For smaller warehouse shades, consider the Barn Light Artesia Warehouse Shade – a hand spun and American made replica of The Original Barn Light, with a shade size of 8" or 10" that are both perfectly sized for illuminating small spaces.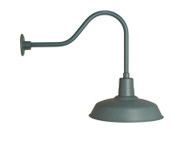 According to the International Dark Sky Lighting Association, the fixture's shade should shield any light from escaping upward. In addition to the gooseneck lights already mentioned, most of the standard fixtures sold at Barn Light Electric meet Dark Sky Compliance standards, but take note when adding popular accessories such as cast guard units, as these features can increase the risk for noncompliance. With this in mind, a good rule to follow is to view a light fixture from the side – if you cannot see the bulb then you are likely to be compliant with a Dark Sky ordinance.
During an interview for the USA Today article titled: "More U.S. Cities Dimming the Lights," Jack Reale, County Planner in Fairfax County, Virginia explained why the county passed their Dark Sky Compliance law:
"Before the ordinance, the glare of outdoor lights often spread outside property lines and in many cases was shining in a neighbor's window. The intent was to establish outdoor lighting standards that reduces the impact of glare, light trespass and overlighting and to promote safety and energy conservation. It's designed to put light where it's needed."