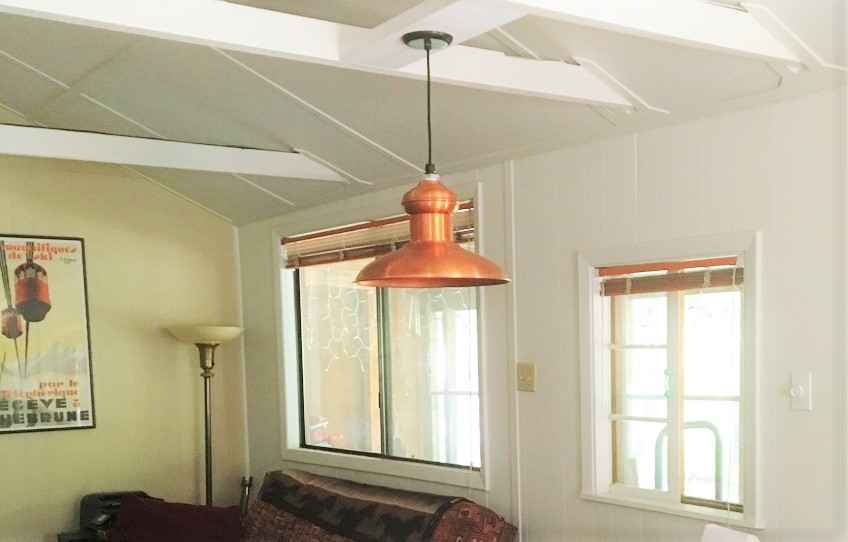 Copper Pendant Light Sets Mood for Meals & More
Does your dining room table get a workout each day? I know mine serves as much more than a family dining space. Homework gets spread out here, board games erupt at times, and it's the perfect place to fold laundry now and then.
Carolyn uses her breakfast table for crafting after meals are cleared away and she searched for a ceiling pendant that would provide perfect lighting for all of the activities taking place in her Ruidoso, New Mexico, home.
"We chose the Chestnut Pendant Light to help lighten up this dark area where lots of activity happens," she explains. "I love copper home accents so I concentrated my search online for copper pendants and Barn Light Electric came up."
Carolyn chose to customize her hand-spun, solid copper pendant with a 16″ shade, Raw Copper finish, Black canopy, and Black cloth cord.
"I loved the fact that it was made in the USA so we knew it would be top shelf," she explains. "And it takes a 200 watt bulb which is impressive." Carolyn had her electrician put a dimmer on the switch so they can set the brightness level to whatever mood they need.
"It is a thing of beauty and casts a great amount of light for crafts when the meal is over," she notes. "The shade is deep enough that the bulb doesn't show which is one reason we chose the Chestnut in particular. The shallow fixtures are awesome too, but we did not want the bulb to show and we wanted maximum light."
Carolyn also loves the cloth cord for its "old school" look and feel. They purchased extra length which is coiled on top of the rafter in case they ever need to move the light and need the extra length.
"I really like the way the fixture looks and it provides the light we needed," Carolyn says. "We could not be happier with it!"
Photos courtesy of the homeowner