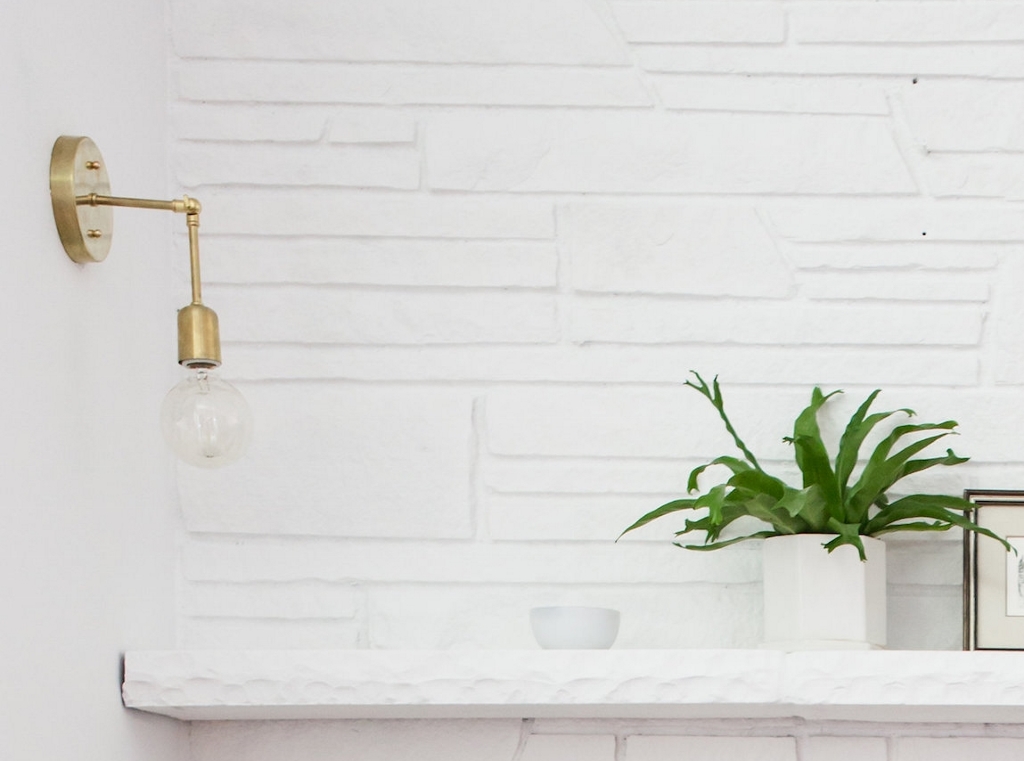 Brass Wall Sconce Adds Bling to Living Room Reno
We love a good reveal, don't you? And there's nothing better than a reveal with great before-and-after photos depicting stunning wood floors, fresh paint, and a lovely brass wall sconce that brings warmth and elegance to the space!
Kirsten Grove, who writes the blog Simply Grove, posted her  first renovation webisode last week featuring the transformation of her living room.
"This room is in the middle of the home and it's the first space that you see when you walk in," Kirsten says.  "I wanted it to be bright and modern." The above is a "before" photo of the space.
Luckily for Kirsten, this renovation didn't involve major structural work. The room received a fresh coat of white paint on the walls and on the fireplace, then the dreadful popcorn ceiling was scraped away.
"We also removed the old drapery and the crystal chandeliers," she notes. "The floors are in great condition so thankfully nothing needs to be done to them."
For the styling of the room, Kirsten chose to blend vintage pieces of furniture with newer, more modern pieces. Near the fireplace, Kirsten chose a Downtown Minimalist Adjustable Sconce to add a touch of light to the space.
This brass wall sconce incorporates the warmth of one of the most popular metals with the sleek design details of modern wall sconces. Available in both Weathered and Raw brass finishes, this brass wall sconce is perfect for showcasing nostalgic Edison style light bulbs with its bare bulb design.
The swivel knuckle design allows this brass wall sconce to be maneuvered into the perfect spot every time. While its pared-down aesthetic offers a modern look, the warm brass and functionality of its design bring a timeless feel to this beautiful wall light.
"I love the simplicity of this fixture," Kirsten says. "I also love that it brings practical light but is so so stylish!"
Photos courtesy of Simply Grove