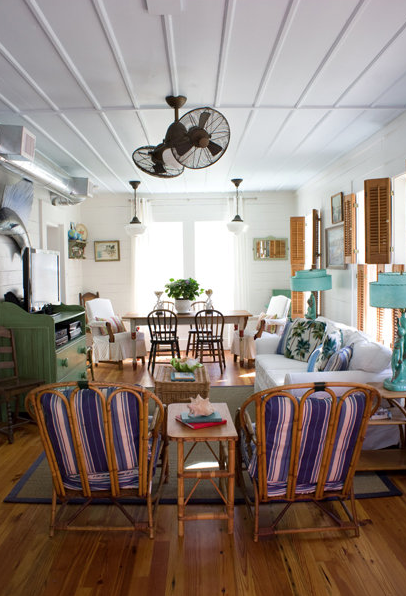 Completing A Coastal Cottage With The Right Ceiling Fan & Pendants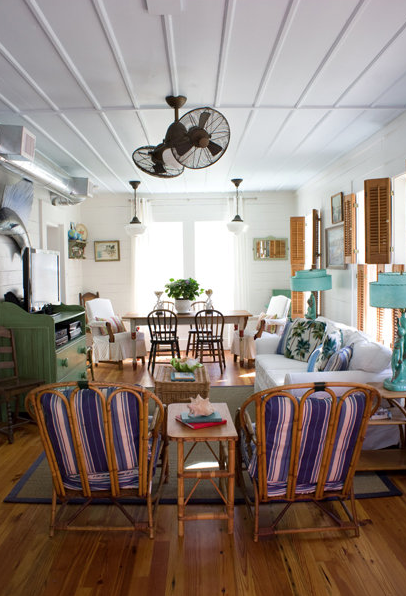 Photo courtesy of The Lettered Cottage
When designing a coastal inspired home, no two are ever exactly alike – countless color schemes and accents are combined to create a one of a kind look, unique to your home. Today's inspirational photo appears to be taken strait out of the Florida Keys. It was its eye catching turquoise and purples that first caught my attention when I stumbled upon it. A mixture of new and old eclectic finds are paired together to create a relaxing and inviting area ideal for a vacation home or everyday living.
Looking to the back wall, you will notice two Volusia Schoolhouse Pendants stemming from the ceiling. The slender stems allow the light to drop in, but not make an overwhelming appearance. The traditional white schoolhouse shades blend into the room perfectly during the day, but will provide a nice evening glow when gathered around the dining table.
One of the room's best features is a vintage inspired ceiling fan. Next to the vibrant colors, this piece takes on a roll as one of the room's focal points. The rubbed bronze finish matches that of the neighboring schoolhouse pendants and provides an older, aged look to each unit. Similar to the Extraordinaire 360 Degree Orbital Ceiling Fan, this unique piece offers a 360 degree rotation meaning that unlike ordinary fans which generate air flow by rotating fan blades around the fan base, this fan actually rotates the entire fan around its base. This ultimately creates a powerful airflow that is evenly distributed throughout the room. Rated for damp locations, this ceiling fan is also a great option to consider for covered porches or breezeways.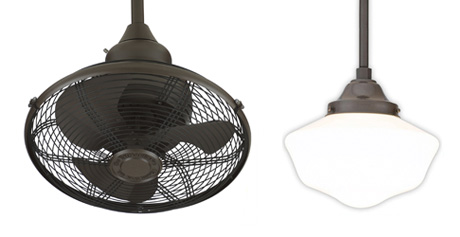 Shown (Left): Barn Light Electric Extraordinaire 360 Degree Orbital Fan, Rubbed Bronze.
Prices start at $349.00 each.
Shown (Right): Schoolhouse Pendant "The Volusia"- 16″ Shade, 119-Bronze, and 18" Stem Mount.
Prices start at $230.00 each.