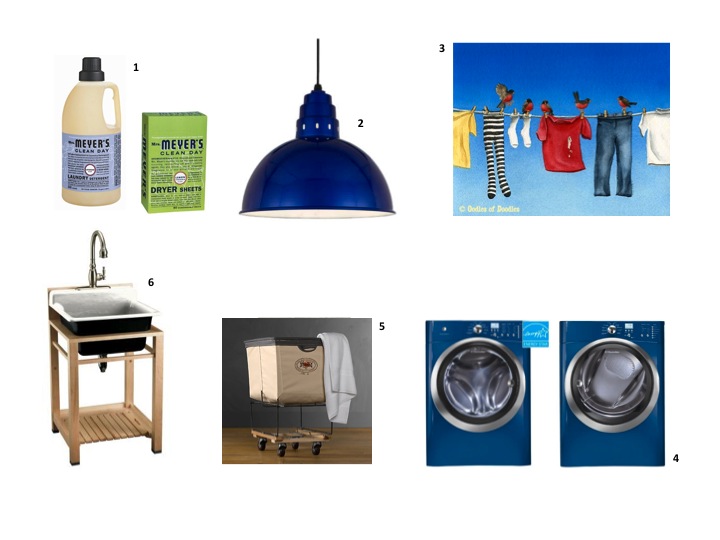 Coming Clean While Going Green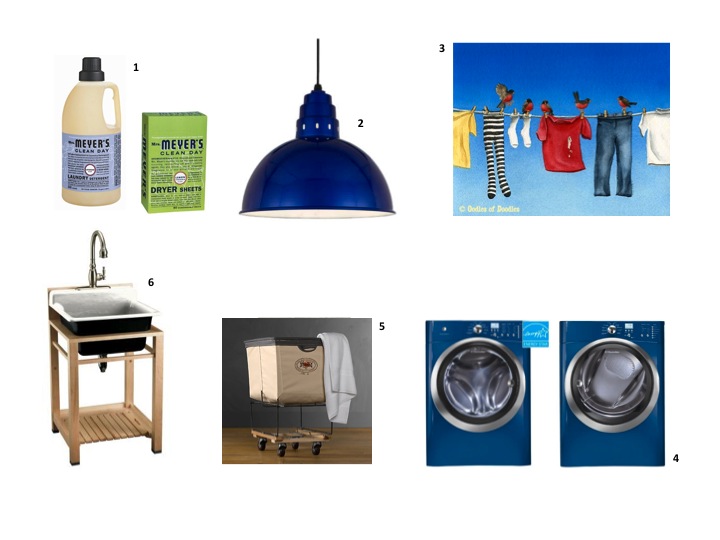 1.) Mrs. Meyer's Laundry Soap and Dryer Sheets: $7.99 each
2.) Barn Light Electric Deep Bowl Pendant 16″ Trans Blue: $182.00
3.) Etsy "Laundry Duty" Print: $20.00
4.) Electrolux 4.7 Cu Ft IQ Washer & Dryer: $1,199.00 each

5.) Restoration Hardware Laundry Cart: $129-$229.00
6.) Kohler Bayview Wood Stand Utility Sink: $669.00
When it comes to laundry, we can all think of a million things we'd rather be doing. But procrastinate no more! Today's Style Guide inspires us all to put a little pizazz into your laundry room.
Did you know, that by the time a child turns 18, the average parent can spend up to 5 months doing laundry? Who would want to waste their sunny days, in a cramped, drab room? With today's selections, appliances alone can bring in plenty of color. We loved Electrolux's Mediterranean Blue "IQ" washer and dryer pair. Although it bears a hefty price tag up front, these appliances are long lasting and Energy Star rated, which means they will most definitely pay for themselves over the course of a few years. To have this rating, appliances must use 35 to 50 percent less water and 50 percent less energy than non labeled machines. So although they may be blue, they're green too!
To add more fun into your room, we chose a vintage laundry basket from Restoration Hardware. The rolling cart allows for easy moving of heavy or large loads, plus it's just plain cool! For tough grass or mud stains, we love Mrs. Meyers products. In edition to their retro look and stylish appearance sitting on shelves, Mrs. Meyer's products use natural ingredients and biodegradable materials whenever possible. To assist in cleaning, scrubbing, or just rinsing off your hands, we suggest installing a small utility sink, similar to Kohler's "Bayview."
Don't let unseen stains ruin clothes – install overhead lighting wherever possible! The Barn Light Electric Deep Bowl Pendant looks amazing in a unique Trans Blue finish. Its unique vented neck allows for additional light to escape and fan out over the shade. Overall it will provide a soft, elegant glow to relax you during even the most unpleasant of chores! Available in 3 shade sizes and over 40 finish options, you can customize this pendant to match almost any appliance, or room's decor!