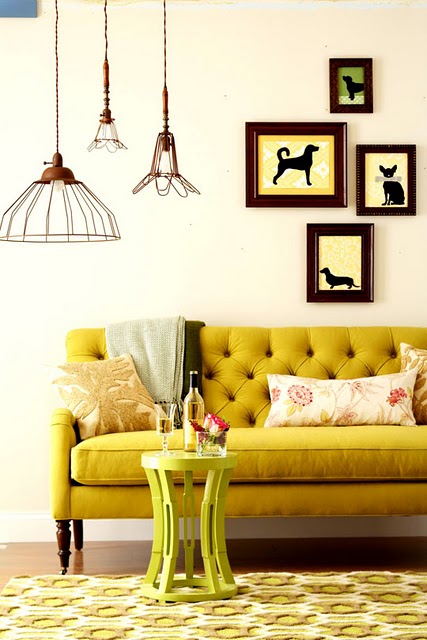 Combining Eclectic Finds & Industrial Lighting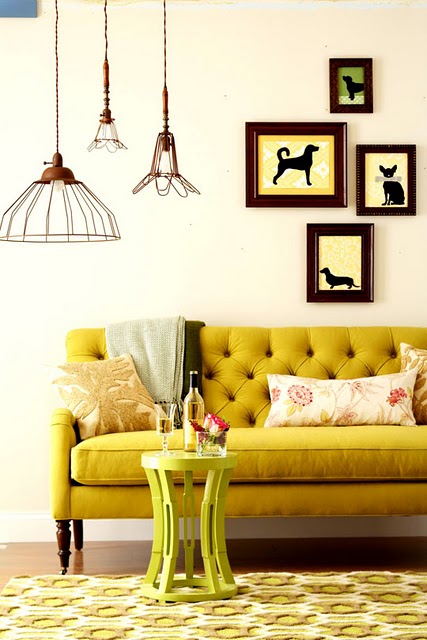 Ironically, eclectic and distinctive design concepts have become increasingly commonplace in many homes. Most are drifting away from the safety of neutral colors, and using brighter and bolder tones throughout the common areas of their homes. Dark wood accents and flooring help to balance out the mustard yellow and lime green hues used in this sitting room. If it wasn't for the use of the inviting floral throw pillows, some may look at this room as being harsh and overdone.

When using such a strong, unusual color palette, one must be careful. Choose one or two strong pieces, and try to keep the rest of the room minimal. The framed pet silhouettes mimic the color scheme subtly against the cream-colored wall and dark wood frames. The vintage cage pendant lights also help to balance out the bright tones of the tufted sofa and small coffee table.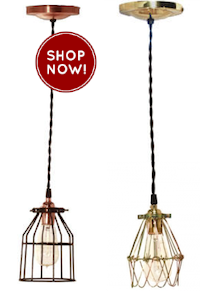 For pendant lighting similar to the lighting featured above, keep in mind Barn Light Electric's Minimalist Copper Cage Pendant as well as the Minimalist Polished Brass Cage Pendant. These pendants can easily add an industrial touch to your home without overpowering and distracting from key pieces. Both pendants are available with various cord styles, including brown, black, and putty cotton twist as well as three-strand cotton cord with ground for higher wattages. When ordering, consider selecting multiple pendant styles or cord lengths to have the ability to stagger their height and combine vintage styles.
To complete the vintage industrial look, add an Edison bulb to your order, available in styles ranging from 40-watt single loop all the way to 60-watt squirrel cage. Should you wish to switch up the look, both wire cages can be easily removed to reveal a bare socket light fixture (oooh!). Whether paired together or hung alone, these industrial inspired vintage pendants both start at $99.00 each and are an ideal selection to achieve the mid century modern look above!
Top Photo Courtesy of Little Lovables