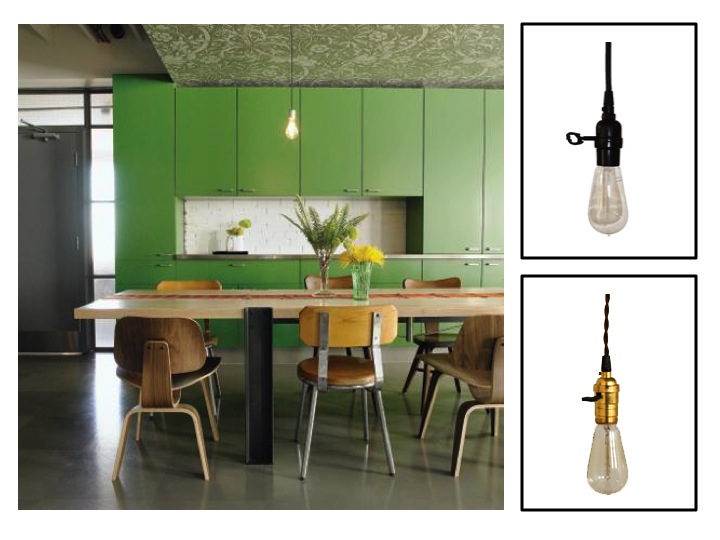 Colorful Kitchens and Pendant Lighting
As with death and taxes, there is no escaping color. Apartment Therapy is a unique design resource that proves using color is a Good Thing (yes, we just quoted Martha Stewart). This vibrant image caught our eye while perusing Apartment Therapy's vast selection of inspirational and low cost design ideas. This photo, featured in their Adding Color in the Kitchen post, first caught our eye with it's use of Kelly Green cabinetry. Although far brighter than the standard wood-toned cabinets we are accustomed to, the green backdrop provides a unique, calming feeling when paired with its reclaimed, vintage accessories.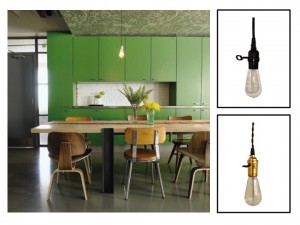 This industrialized kitchen has a somewhat retro, school themed appearance. To the left, you'll notice the industrial-grade fireproof doors with matching two toned, polished gray tiles. The eclectic collection of wooden desk chairs sit around a table created from a salvaged pine door and steel beam legs.
Although this space has plenty of natural light, higher loft ceilings require drop down, pendant fixtures. Keeping with clean and simple design elements reminiscent of the 1940's and 50's , an elegant bare bulb socket drops in from the kitchen's contrasting floral ceiling.
This fixture, similar to our vintage Indy Industrial Pendant or our Minimalist Raw Brass Pendant is just as sleek, simple and modern in design. The slender composition of these early 1900's pendants, allow it to be used alone as a single bulb, or in a cluster when more lighting is needed. Adorning the side of each socket is an optional fully functional, antique-style turn key. Extending from the 5-inch ceiling mount is our vintage-inspired, adjustable cloth cords in your choice of black, white, or brown – and depending on the fixture, several additional cord lengths are available. Complete the historical look of this fixture by adding any of our Edison style light bulbs to each (sold separately).