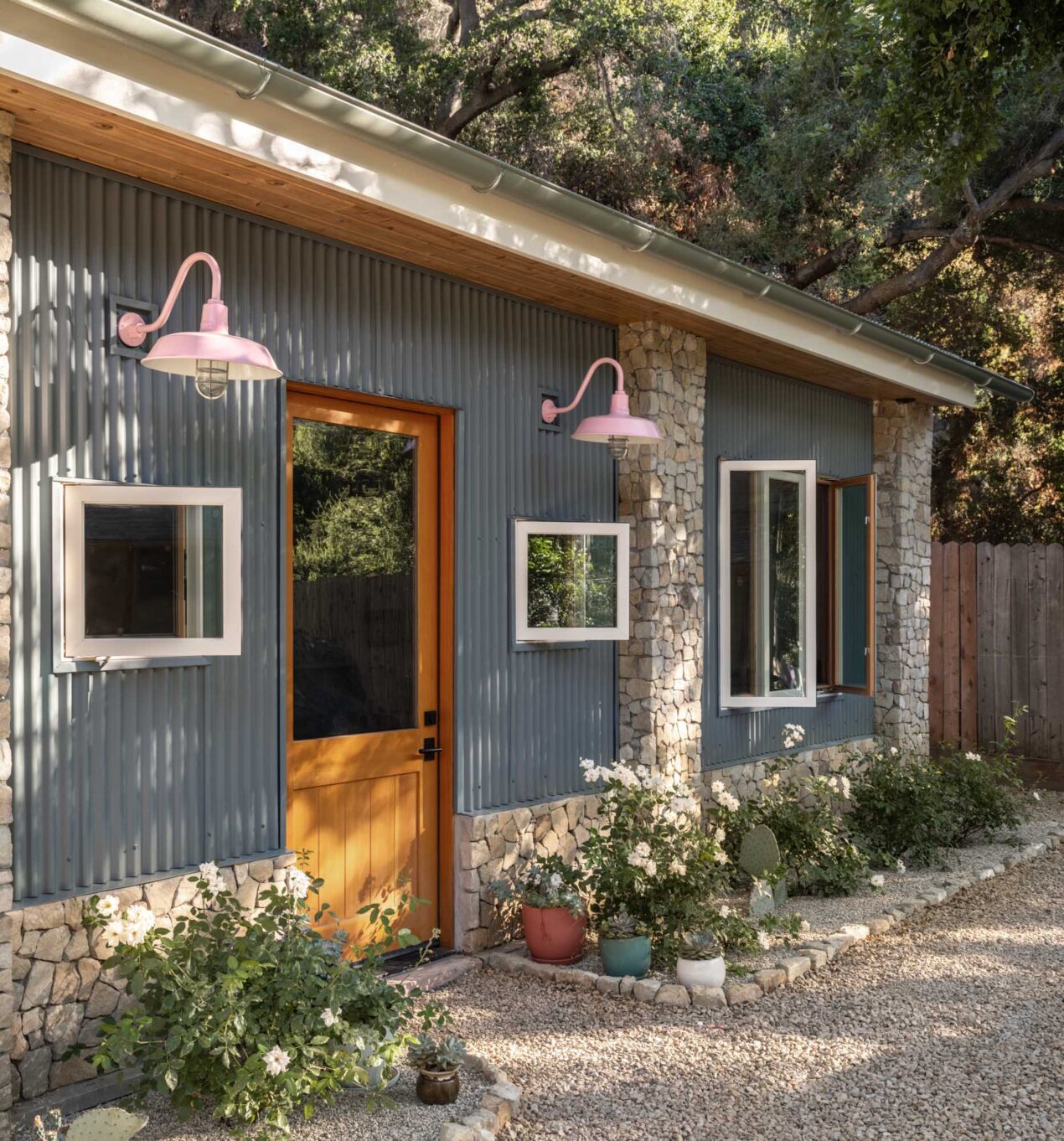 Colorful Handcrafted Lighting Adds Nordic Flair to California Barn Renovation
We've seen a lot of interesting customer projects over the years, but today, we're sharing a unique renovation. When Mike Kelley and his fiancé Melanie Eppright bought a piece of property in central California, it came with an interesting history. Once used as a sanctuary for elephants, the property includes a house and a barn for the pachyderms.
While the barn was in a state of disrepair, Melanie and Mike, an architectural photographer, envisioned a renovated space that could house a photography studio, a workspace for handling equipment repairs, an office, and a small kitchenette with sleeping quarters for guests.
Today, we're chatting with Mike about this project and how the couple overcame mudslides, excavation headaches, fire damage, underpowered electrical, and wayward plumbing to create the multi-purpose space of their dreams.
Q: What was your design direction as you worked on the barn? What feel were you going for with the colors, materials, and fixtures?
A: For my entire career, I have been interested in Nordic design. It's an absolutely fascinating subject. The wild landscape of these countries necessitated design solutions to keep people warm and dry in some of the world's harshest conditions. I wanted to apply these Nordic design concepts in a way that made sense in California. It turns out that the same materials and principles that made these structures last for decades apply here as well. Stone bases keep water out and metal siding not only resists strong winds but stops windblown wildfire embers which are a real threat here in California.
Q: What was important as you looked for lighting? American made? Color selections? Customizing options?
A: All of the above! We're self employed and are big believers in supporting local jobs whenever possible. Barn Light Electric is not local to us but we know they are paying real craftsmen and women real wages to create this product. It's nice to look at the product and know you're supporting a small business that came up with the ideas and turned them into the end product.
Fun colors were necessary too. American house culture has undergone this huge shift into watered-down interiors so that they're a 'good investment' and can be sold in the future. Boring! We wanted fun. We wanted color. We wanted people to stop in their tracks and say, "Wow! Brave choice — pink gooseneck light!" And it actually fits in here!
Q: Why did you choose The Original™ Nautical LED Gooseneck Light for the exterior of the barn?
A: This is a classic, rugged design that is ubiquitous throughout the harsh environments of the Nordics. If they can resist gale-force winds and salt water erosion, they'll deal with California just fine. Barn Light isn't messing around. These are the real deal and will stand the test of time.
Q: Why did you customize these lights with 18″ shades, the Blush Pink finish, and the G15 gooseneck arm style?
A: One of the most heinous design crimes is undersized fixtures! Go big or go home! The pink finish is such a statement. Everyone who comes here loves them. We've also painted our raised beds in a similar pink shade, so it was nice to be able to customize the lights to tie the landscape design together with the architecture of the project.
Q: And why did you go with the Galvanized guard and frosted glass on these?
A: While the pink brings a touch of whimsy, the galvanized guard is an industrial mainstay. It's right off the bridge of a commercial fishing vessel — another Nordic homage. I can't help myself! We were trying to walk a line between getting too soft and flowery and keeping it somewhat industrial and rugged.
And as a photographer, quality of light is important to me. The frosted glass softens the appearance of the bulbs just a bit. It's a little less harsh than a clear glass cover and a little easier on the eyes.
On Wednesday, we will continue our tour of this gorgeous elephant barn-turned-studio as we check out the amazing transformation on the inside. Be sure to check back then!
Photos courtesy of Mike Kelley