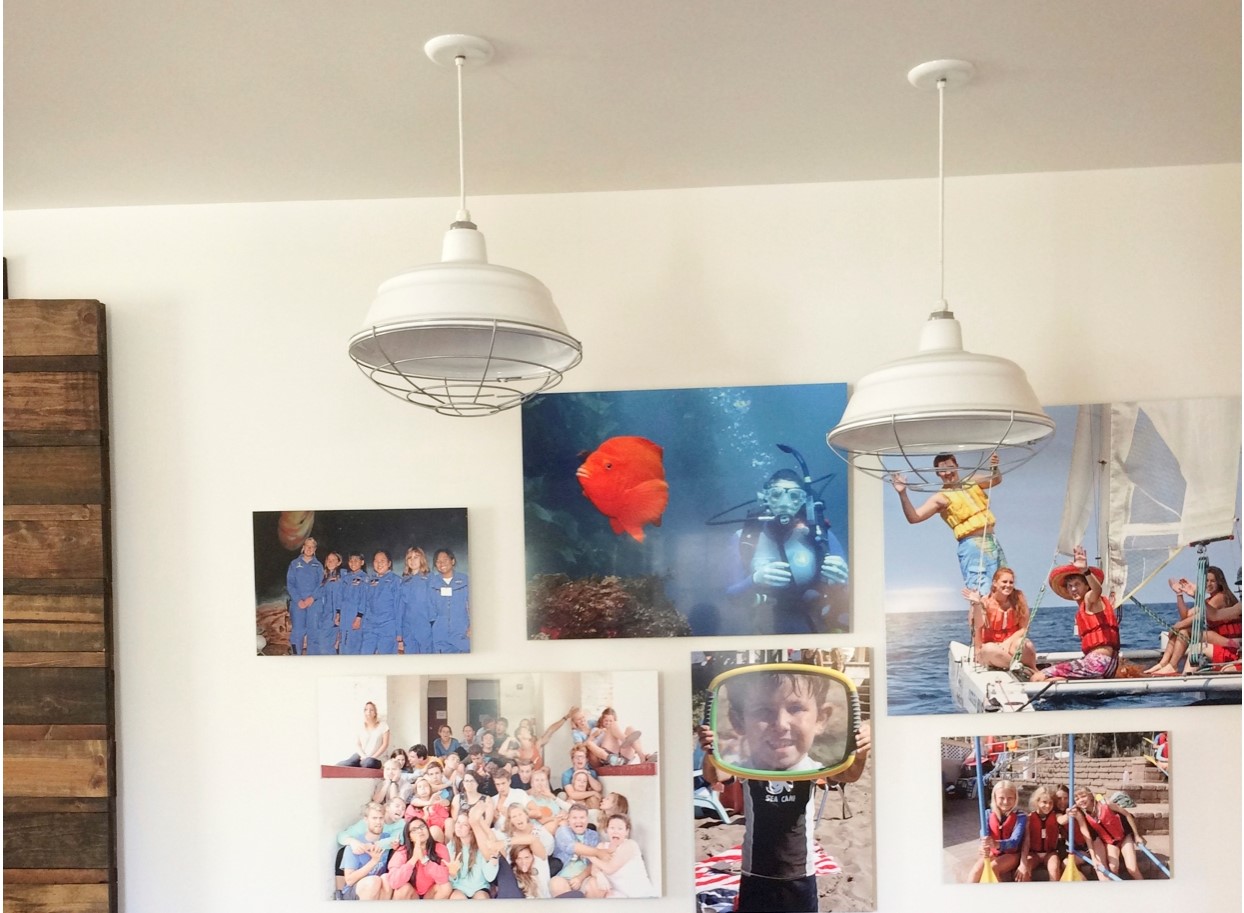 Colorful Barn Lights Complement Fun Office Environment
Saavy interior designers know that the work environment affects not only our mood but also our productivity. When the creative minds at Maison Blue Design Group tackled a remodel for Guided Discoveries, Inc. in San Juan Capistrano, California, they used colorful barn lights to create an uplifting and playful space that embodies the spirit of the science and marine biology camp.
"The client's main goal was to create a fun office environment that encourages collaboration and creativity," says Emily Turner, interior designer with Maison Blue. "We wanted to bring the spirit of the camp environment into the business office." The inspiration for materials and finishes was a mix of nautical and industrial with barn lights a natural fit with their industrial design roots.
"The colors offered by Barn Light Electric offered us an opportunity to be playful and fun against the white walls," notes Della Hayden, another Maison Blue interior designer.
For the camp director's office, the team chose the Avalon Gooseneck Light. The generous 16″ shade of this hand-spun light will help illuminate built-in storage shelving that is planned for the space. The Industrial Grey finish color is complemented by a Galvanized finish on the G11 gooseneck arm which projects the fixture away from the wall far enough to provide ample lighting.
The classic lines of the Avalon make another appearance in the kitchen this time sporting a Navy finish.
"The ceilings are very high in this space," Della explains. "Wall lights were the most effective way to bring light down to the kitchen work areas."
The team stayed within the Avalon family of barn lights but chose the Avalon Wall Sconce for several spaces. A Navy version adds a decorative touch to this hallway but also serves brightens the small adjacent conference area.
A nice pop of Teal in the ladies' room complements the walls while…
….the men's room features a Galvanized wall sconce.
"The Galvanized finish gave the men's room a more industrial feel," Emily says. "It inspired us to use galvanized sheeting as our non-porous wainscoting in the bathrooms!"
For the conference room, the team picked out two Bomber Pendant Lights. These barn pendants are customized with a White finish color and vintage-inspired wire cages.
"The best feedback we've received is in regard to the playful colors and the design cohesiveness throughout the office," Emily says. "We don't ever design based on 'trends' but barn lighting is arguably trendy right now. I think that resonates with people outside of the interior design world which is a plus!"
Photos courtesy of Maison Blue Design Group